"Read Your Way Around The World"
We have a really diverse academic faculty at Dulwich College Puxi. Teachers who have brought with them a wealth of teaching experience and the knowledge of how to positively challenge and inspire bright young minds. One such teacher is Trevor Kew, who is leading the teaching of English in the Senior School. Recently, Trevor took time away from his latest novel to share some insights with us into Dulwich's exciting English curriculum, and how he helps students to develop their appreciation and talent for writing and reading literature from around the world…
"English at Dulwich is taught to a very high standard and starting early in the Senior school, we introduce students to different writing styles and genres. We encourage students to study the works of authors from diverse backgrounds – literally to read their way around the world."
Our Year 7 students are currently focusing on various short stories from the Science Fiction genre.
While students do find some of the vocabulary quite challenging, they really enjoy the imaginative nature of the genre coupled with its real-life connections to technology and innovation - some of the inventions in the older stories we've read now exist today!
With our Year 8 students we are focusing on various short stories from the Suspense/Horror genre.
Students really enjoy the atmosphere and tension of this genre, though it can be quite challenging for them to write their own suspense/horror stories that end in a manner that satisfies the reader. "Then I woke up and it was all a dream"? Absolutely not; readers crave for more than that!
Our Year 9 students are developing a range of short stories linked by the theme: "hold a mirror up to nature."
This is a really challenging unit requiring students to look beyond fiction to the big picture beyond the page. With that challenge comes the enjoyment of discovering culture, society, and human nature when studying fiction.
Our Year 10 students are focusing on the art of persuasive writing. Using Romeo and Juliet as their text, our students are decoding Shakespearean language and writing about the parallels of historical Romeo and Juliet with their own modern lives. It's tough, but it's fun and we're enjoying using our persuasive writing skills to write evocatively about our personal views on other social issues in the world around us.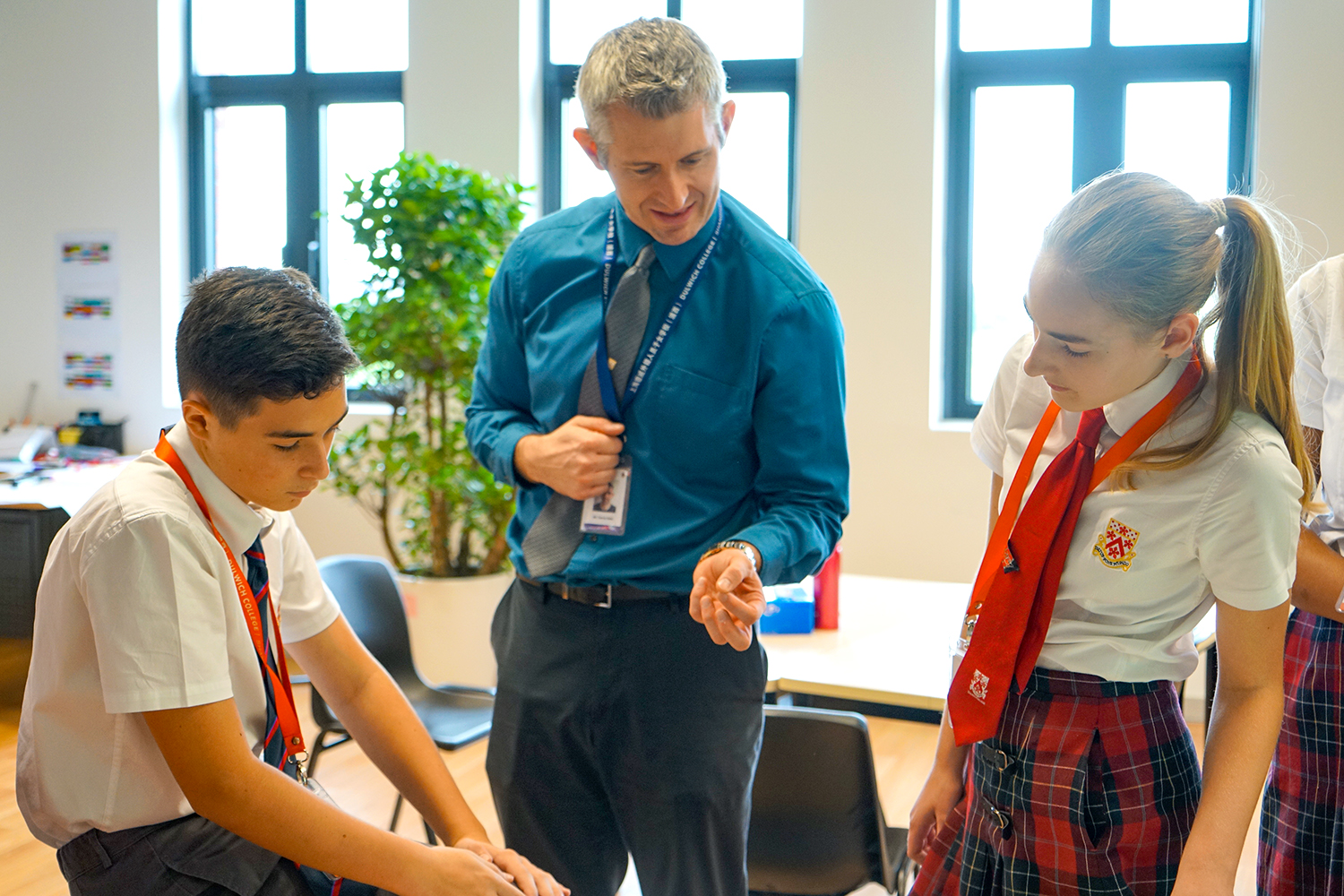 Tell us more about yourself please, Trevor?
I am Canadian, but have spent my whole career teaching English and English Literature in various places around the globe. I am particularly fond of IBDP Literature, a wonderful course that I would have loved to have taken as a student in high school!
What is your teaching style in class?
I like to give students time to either discuss something with their peers or to write in complete silence before bringing the class together as a group. Students often need time to work through their ideas alone or in small groups before they share them more widely.
What is your favourite aspect of teaching?
I really love reading a great story with students, where they are on the edge of their seats or laughing out loud, or telling me they've never thought of things that way before. Recently, I read the Isaac Asimov sci-fi story "The Fun They Had" to my Year 7 students and their reactions were absolutely priceless. It is about a robot teacher, though, so they've been looking at me quite curiously ever since.
What is the most important thing for students to remember in your classroom?
Just to believe that they actually can get better at English. Improvement in a language is hard to feel on a day-to-day basis and I think many students simply decide "I'm bad at English" and then this becomes a self-fulfilling prophecy. So much of improving your writing, your reading, your listening, your speaking is down to pure determination and "bouncebackability" (a favourite word of mine invented by Crystal Palace manager Iain Dowie). Hang in there. You will improve.
How do you hope to make a difference?
I'm an English teacher, not a mechanic, so I cannot fix a student's English for them, not completely or permanently. I can only help students develop the tools to fix it for themselves. Beyond this, I hope to open my students' eyes to writers that they might not otherwise read, or films that they might not otherwise see. (My ultimate goal is to get them all to love Chaucer in International Baccalaureate Diploma...but don't tell them my secret just yet!).
Getting better never stops. What are you looking forward to learning more about?
I'm excited to learn more about China, of course! The chance to live and work here is so incredible. As a teacher, I make a conscious effort to read more literature written specifically for young people. There is so much wonderful writing out there these days…it'd be a shame to get into a rut teaching the same books every year! For example, I had never read A Monster Calls until I arrived here at Dulwich, but I enjoyed it so much that it will soon be the novel study for a Year 8 class!
Why Shanghai?
It's a fascinating city with kind people, good opportunities for travel, and great food! I've enjoyed cycling around Shanghai as well thus far. It's far easier than I thought it would be.
Share a quote that resonates with you, and why?
"The art of writing is the art of applying the seat of the pants to the seat of the chair." That quotation from MH Vorse always makes me laugh, but it also gives me motivation. Nobody writes a novel in a single night. Nobody accomplishes anything just on talent alone. You've got to persevere!