Mandarin Pathways to Living and Graduating Worldwise
As we approach Chinese New Year, our attention once again turns to the celebration our local context and the value of building intercultural understanding. At Dulwich College Shanghai Puxi, our Mandarin curriculum is designed to ensure that students not only learn to read, write, speak and listen in Chinese, but also that they understand the rich historical and cultural context that is shared via the language. Below, Amber Zhou, Head of Mandarin, looks at our Mandarin curriculum and explain how we use this curriculum to build cultural understanding.
With Chinese New Year just around the corner, we see Dulwich College Shanghai Puxi coming alive once again with familiar red and golds, with lanterns and banners: joyful decorations celebrating this most wonderful time of the year in Chinese culture. It is a time where our students come together to embrace the very best of Chinese cultural celebrations, singing traditional songs and pulling out all stops to wow the community with their impressive talent and deep understanding of what makes China so special. It is also at this time where we see the students stretching their Mandarin muscles and demonstrating the incredible progress they have made with their Chinese language development over the last year.
At Dulwich College Shanghai Puxi, we share the Dulwich College International vision of developing students who Graduate Worldwise. With Chinese speakers representing some 20% of the global population, understanding Chinese culture and being able to communicate in Mandarin is an important element of our definition of Worldwise. Proficiency in Mandarin will represent a competitive advantage for our students in the future, and as such the mandarin curriculum at Dulwich College Shanghai Puxi is seen as a key element of our academic provision.
Mandarin has been an important part of the curriculum ever since Dulwich College International opened its first school in Shanghai in 2003, and we are proud of our group track record - 62% of our students have achieved top scores in IB Mandarin. In following Dulwich College International's motto, detur pons mondo, or building bridges to the world, our educators set out to build bridges between Chinese and non-Chinese worlds.
Reflecting the importance of Mandarin and the diversity of our community, throughout DUCKS (Toddler to Year 2) we follow a dual-language bilingual teaching approach. Each classroom is led by both a native English-speaking teacher, and a Mandarin speaking teacher. From Year 3 onwards, the Mandarin curriculum is delivered according to the needs, learning background and language proficiency of each individual student. Throughout the College our numerous Mandarin curricula, whether Chinese as a Native Language, Chinese as a Second Language, or Modern Foreign Language, are built upon the "Wo Hui Mandarin" model featured across the Duwich College International group. "Wo Hui" is a new method of teaching Chinese which seeks to overcome the difficulties that students experience when using more traditional methods. At the core of the Wo Hui Mandarin model is the emphasis on the fact that "it's not what you know, but what you can do with what you know". Perhaps the most important difference in approach is that the emphasis in learning is not on rote memorisation but on the active use of the language learned. In Senior School our Mandarin curricula are suitably adapted for the IGCSE and IB Diploma Programme, focusing on cultural awareness and critical thinking. This continuity of curricula and responsiveness to individual needs ensures that Dulwich College Shanghai Puxi students have numerous opportunities not only to learn, but also to use their Chinese language skills in practical situations; ensuring both personal fulfilment and academic success. Our upcoming Chinese New Year celebration to be hosted in the College Theatre is one such example of our students being able to put their Mandarin skills and cultural understanding into practice.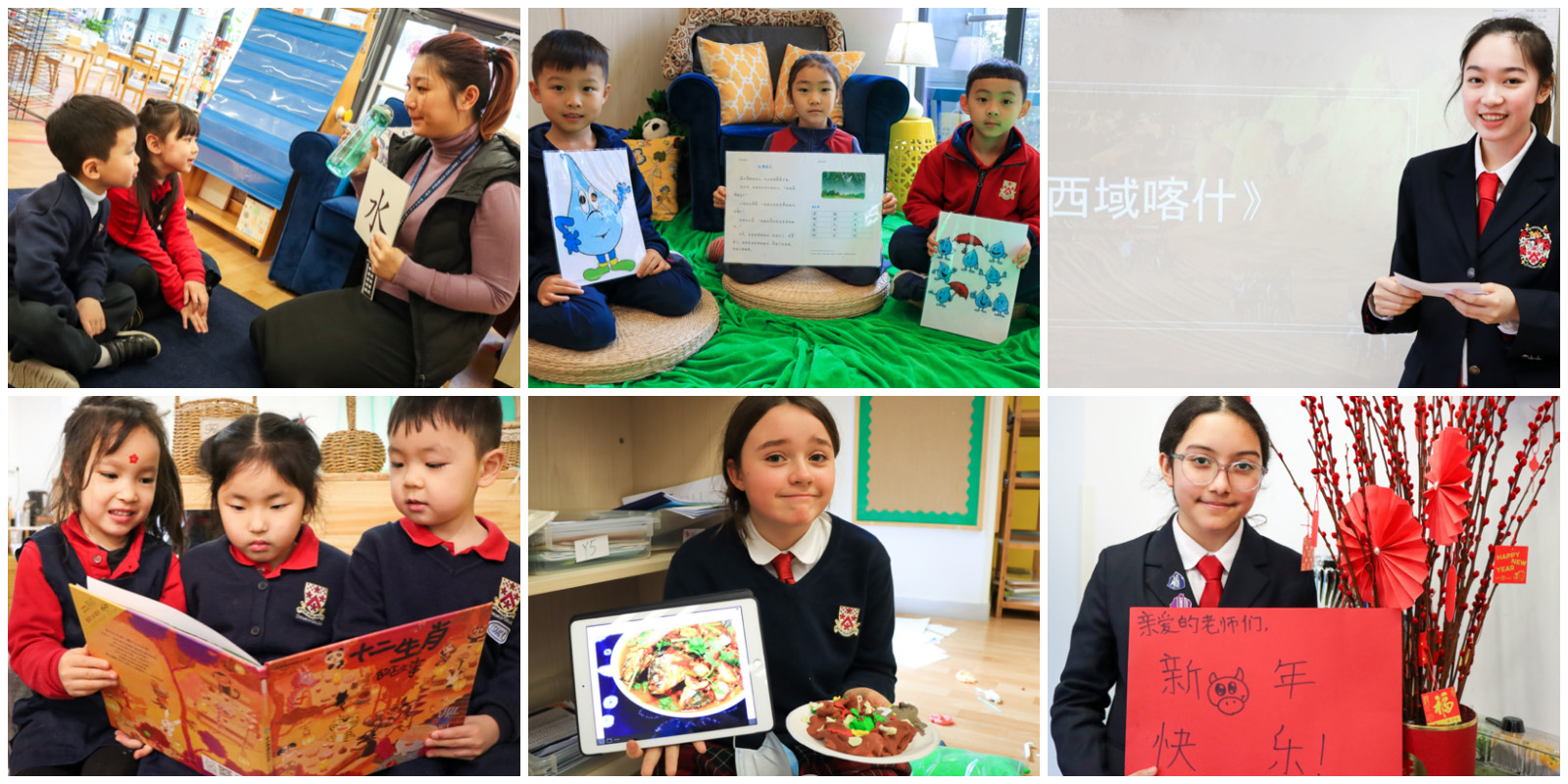 Our students recognise the importance of learning Mandarin and reflect on the unique benefits this provides them not only now, but into the future as well. I spoke with some of our students to hear their thoughts. Here is what they had to say:
"Learning Chinese is important to me because although I am not Chinese, it means I am able to communicate with the people around me while I live in China. " — Stella, Year 7
"Learning and mastering Chinese is an inevitable trend of economic globalization. Becoming fluent in Chinese will give us more opportunities. " — Tim, Year 9
"Because Chinese is my mother tongue, learning the language and culture of my country is very important. I don't want to lose this important link to my heritage. " — Jack, Year 10
"Even though I plan to study abroad, I still hope to develop my career in China. Learning Chinese can help my future career and open up more choices for me in the future. " — Anke, Year 11
Below, Emma and Dora from Year 6 discussed their favourite Chinese cultural activities from throughout the year.
We look forward to seeing what our students will perform this Friday at our annual Chinese New Year assembly. We are sure it is going to be yet another highlight of the academic year.