Global Citizenship Awards: UWS Recognises Fundraising Efforts
Education is so much more than facts, knowledge and exam results. As students graduate from Dulwich College Shanghai Puxi, they will go into the world as well-rounded Global Citizens who Live Worldwise. A key part of Live Worldwise means to understand the challenges facing the world and have an intrinsic motivation to help solve them. We truly believe that our students will be the generation who will go on to solve some of the world's biggest problems. However, in order to solve problems we must first understand them. We have created and embedded a Global Citizenship Competency framework that outlines our Global Citizenship vision and mission, and codifies the five key strands that inform our action.
Global Citizenship Competencies
————
Vision
A community working together so children can empower themselves to make a difference.
Mission
To support our community to be effective global citizens who Live Worldwise, understanding our actions, beliefs, decisions and attitudes and have a positive impact on us as individuals, others and the wider world.
Service
Environmental Sustainability
Intercultural Understanding
Diversity
Social Justice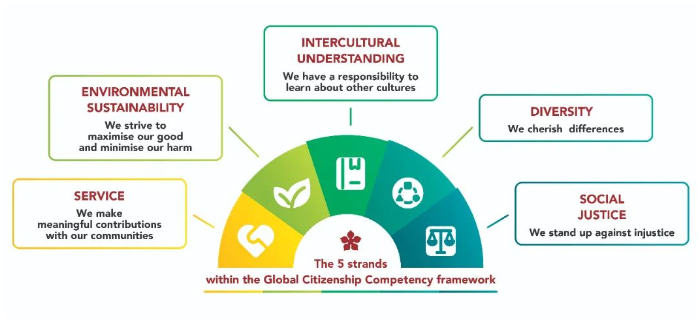 Below, Ms Ivey shares the wonderful news of our students receiving Global Citizenship Awards for their fundraising efforts this year, and explores some of the ways in which we embed an understanding of Global Citizenship into our curricula.
Jessica Ivey
Senior School Wellbeing Curriculum Coordinator
One of the 5 key strands of our Global Citizenship Competency Framework is Service, where we aim to "make meaningful contributions with our communities". While we engage in a wide variety of service initiatives throughout the year, undoubtedly one of the biggest is our commitment to funding the Veal Reyoung School in Cambodia through our partnership with United World Schools. Each year, the College funds the 8,000GBP running costs of the school, ensuring the delivery of life changing education to the students of Veal Reyoung. This commitment is embedded into the Service Learning unit of our wellbeing curriculum in the Senior School.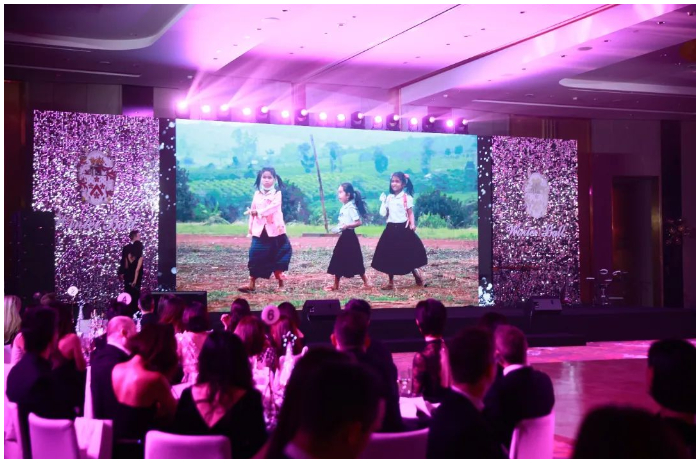 This year many of our students have received Bronze and Silver Global Citizenship Awards and a special thank you letter from United World Schools, recognising their fundraising efforts throughout the year.
I hope that your community is safe and well. We are immensely grateful and impressed by your students' work towards the Global Citizenship Awards at United World Schools, and for your continued support for UWS' communities, especially through the Covid-19 lockdown battles in Shanghai that continue for you all.
Thank you for sending us evidence of your students' work towards the awards. Following our discussion, I am delighted to award bronze and silver awards to the following students:
Bronze Award (Year 7)
Sean B.
Jayden H.
Christine H.
Tabitha I.
Aaron K.
Evelyn K.
William K.
Ana L.
Emma M.
Carel P.
James P.
Dora T.
Poppy T.
Hanne V. L.
Aedan W.
Olivia W.
Grace W.
Chris W.
Jasleen Y.
Amy Y.
Lynelle Y.
Ryan Z.
Melody Z.
Kevin Z.
Silver Award (Year 8)
Ciara M.
Madeleine B.
Vincent Y.
Bella B.
Regina B.
Silver Award (Year 9)
Kevin S.
Dora W.
IIir L.
Amila M.
Chesna W.
Jerold P.
I enclose the certificates for your students. It is wonderful to see that your young people are thinking of the children and communities that UWS supports, and we are glad for your support. Wishing you all the best for the rest of the academic year.
A huge congratulations to our students for receiving their Global Citizenship Awards.
Our work towards funding the Veal Reyoung School is just one of the many Service Learning initiatives our students have undertaken this year. From large projects to small actions of kindness, a service mentality is embedded throughout the College. This year, as part of their Service Learning Exhibition, students were asked to reflect on the service projects they undertook this year and what service means to them. We are very proud of how they have helped their communities and continue to look for opportunities to lift others around them.
Live Worldwise through Global Citizenship Education
————
The United Nations Educational, Scientific and Cultural Organization (UNESCO) states that "Global Citizenship Education (GCED) aims to empower learners of all ages to assume active roles, both locally and globally, in building more peaceful, tolerant, inclusive, and secure societies" (UNESCO). In the Senior School, every lesson contributes towards embedding Global Citizenship education by helping our students to:
Develop their cognitive skills: Equipping them with the knowledge to understand our world and its complexities and communities better.
Develop their social and emotional skills: Understanding and clarifying their own personal values and learning to articulate them to others in a respectful way.
Think about the impact of their behaviours: How their engagement with the communities around them can help build a better world for all.
Below are just a few examples of how Global Citizenship Education is integrated into the various subjects.
English: Working down from Key Stage 5, all of the texts that are selected for study have active links to global issues that relate to and help our students prepare for the IBDP fields of enquiry: Culture, Beliefs, Politics, Art and Science.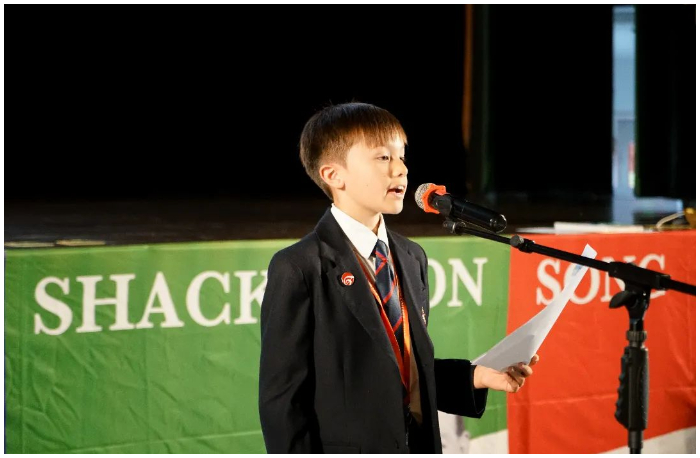 Mathematics: Students use their mathematical knowledge to model real world topics. Examples of this include investigations such as comparing countries that produce green energy and applying their understanding of statistics to the business world behind Minecraft.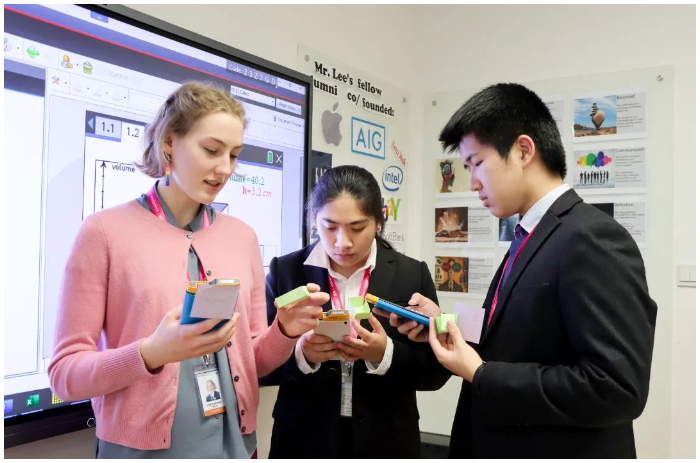 Science: Students explore real world applications of scientific knowledge. They learn about how science has improved people's lives, and how it can cause controversy. They consider the limits to what science can achieve, and how scientific solutions to problems interact with social, political, ethical and economic factors.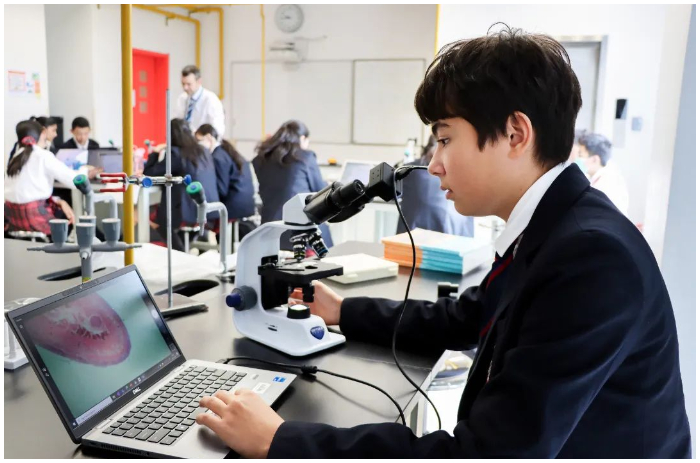 Geography: In the geography course, students are taught to recognise their solidarity and commonality with others, near or far.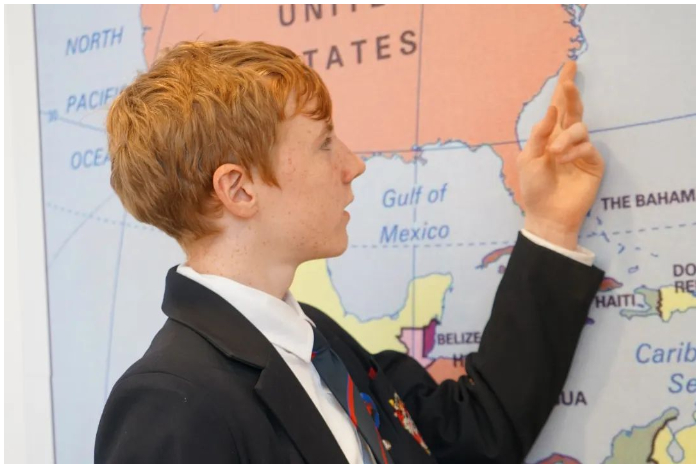 History: Students learn about key historical events, and explore how through understanding, we can avoid the mistakes of the past.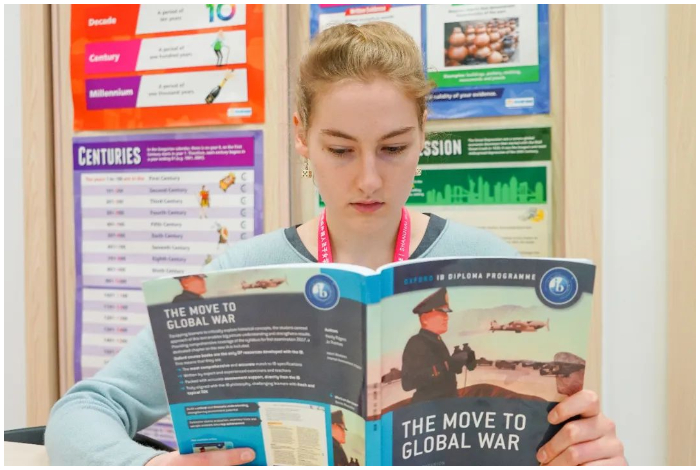 Mandarin: Students develop a deep understanding not only of the Mandarin language, but also the local culture and context, drawing comparison and building intercultural awareness.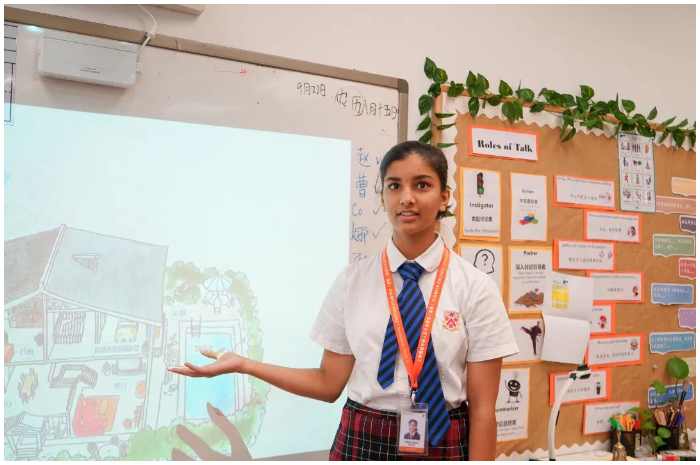 Spanish: In Spanish, students begin to consider the wider world and their place in it through topics such as 'compartir el planeta' (sharing the planet) which is covered in Key Stage 3, the IGCSE and IBDP.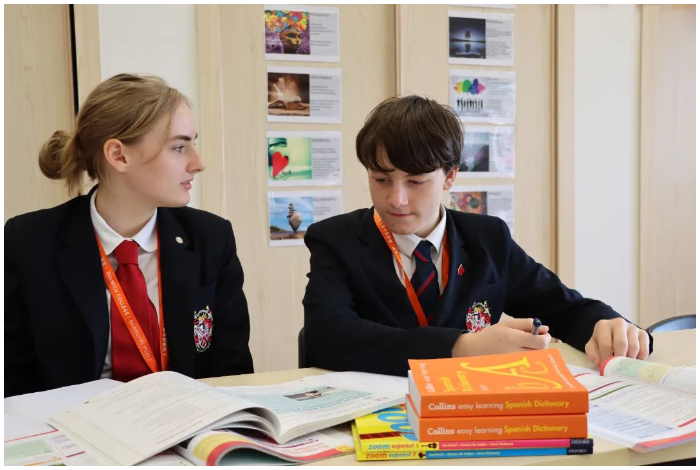 Drama: Human performance is universal. In every culture and society, humans use performance to explore and understand the human condition from their perspective. Drama is the study of humans through performance, and here students learn about theatrical practices from around the world that show us the similarities and differences between human experience across the globe and throughout time.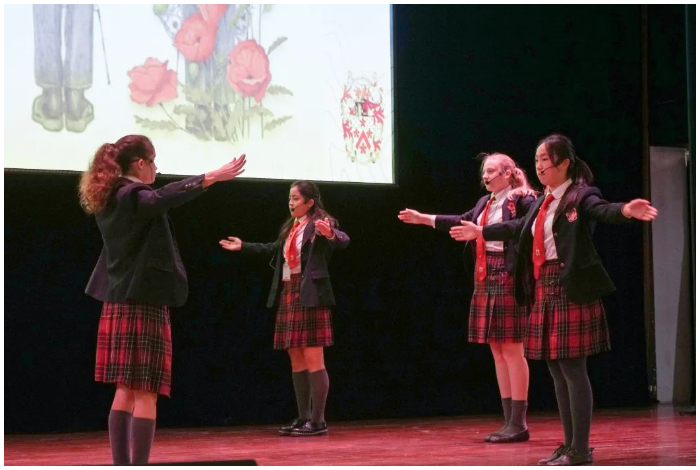 Music: In music, students study customs and traditions from a variety of countries across the world. Music tells the stories of cultures through hard times, sad times and good times. Music is a great way to build empathy, appreciation and global knowledge.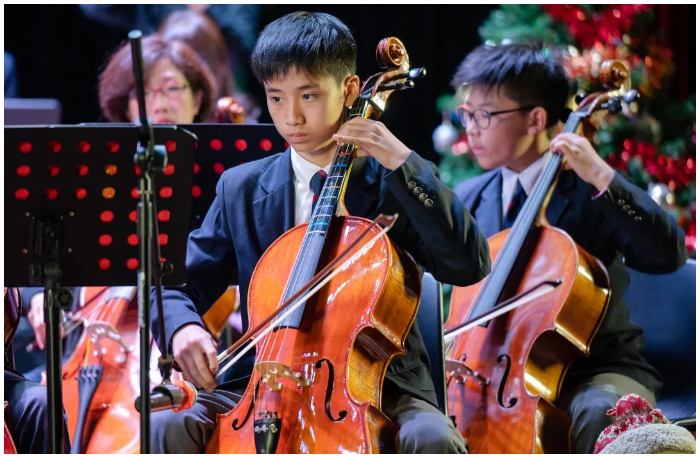 Art: Students are introduced to artists and art forms from a wide variety of global contexts, which helps to build an understanding of the world around them and the people that inhabit it from the past to the present day.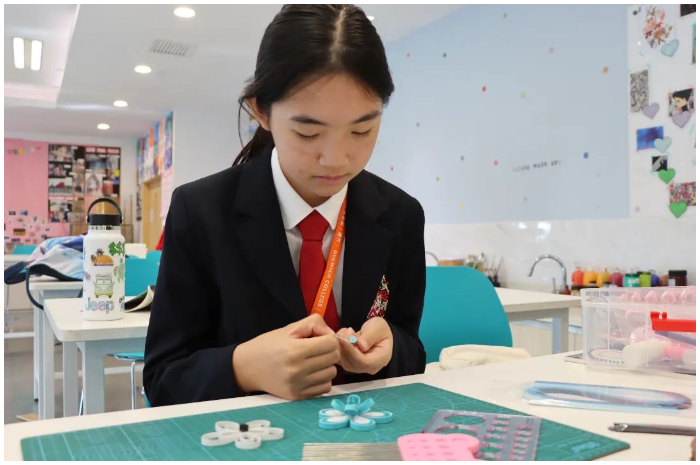 Computer Science: Students learn how e-waste pollutes the environment and causes health issues. They also learn about the concept of the digital divide, which describes the differences in opportunity created by the gap between those who have access to technology and those who do not.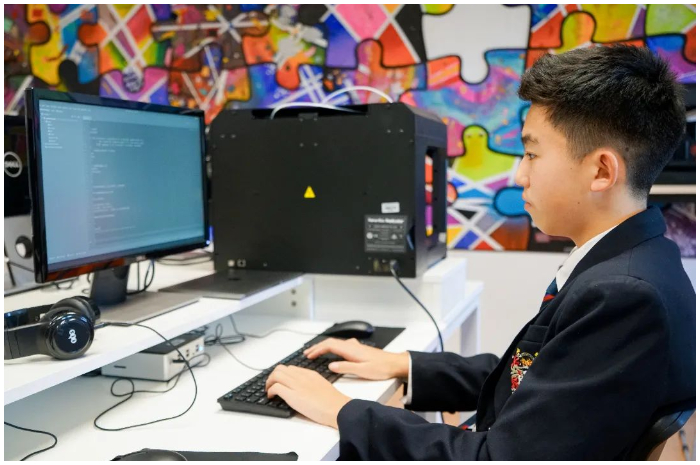 Physical Education: Global Citizenship is taught in PE through playing fair, discussions regarding working together towards a common goal and helping others to progress in sport through coaching and assisting others.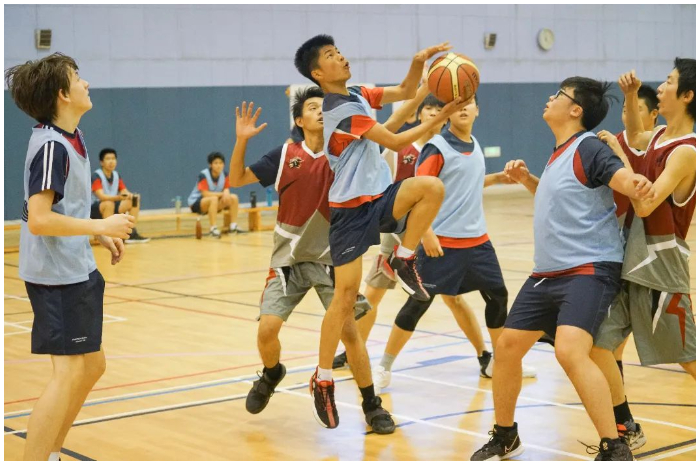 By embedding the 5 strands of the Global Citizenship Competencies in our curricula each and every day, our students are building a better understanding of the world around them, and are inspired to Make a Difference on their journey to Live Worldwise. We look forward to seeing more great initiatives coming from our students next academic year.
References