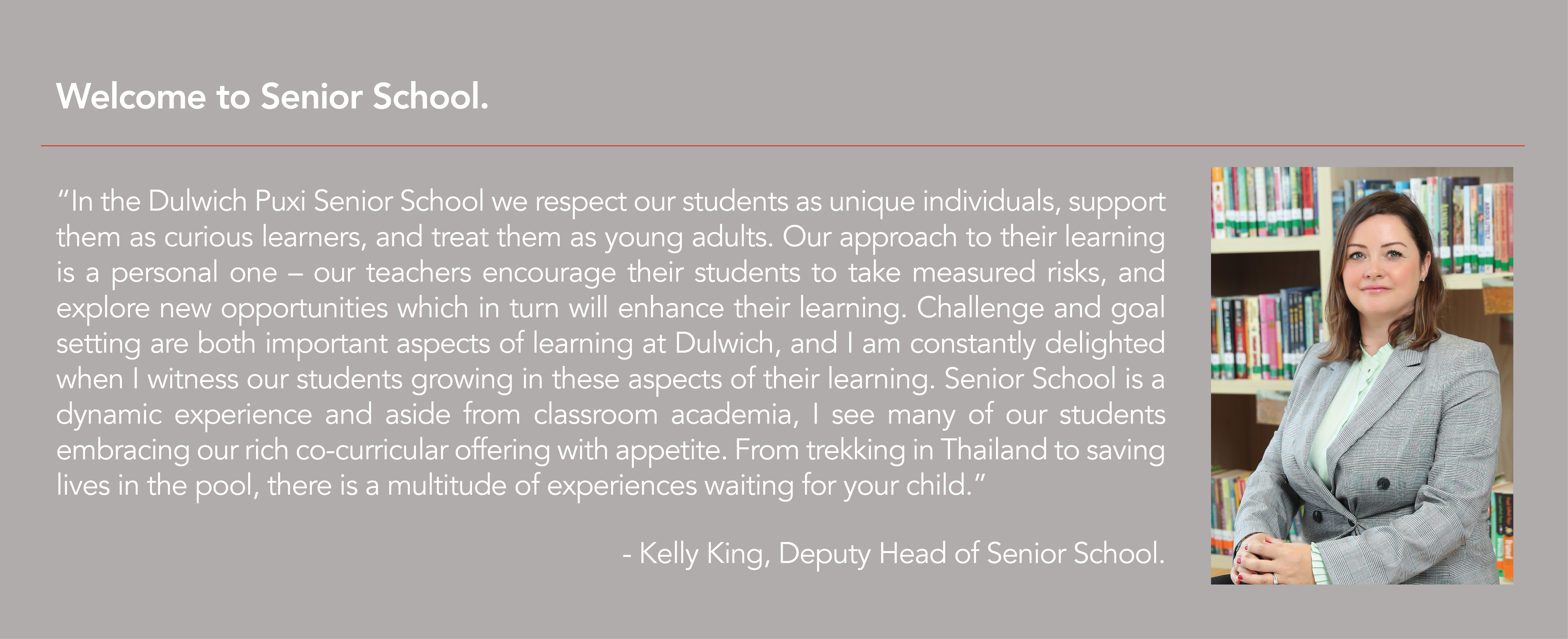 The Dulwich College Puxi Senior School is characterised by a diverse group of international young adults who are widely recognised as being confident, friendly, outward-looking, collaborative, motivated, and smart young leaders within our school.
From Year 7 to Year 9, students at Dulwich College Shanghai Puxi study the British national curriculum which leads to IGCSE in Years 10 and 11, and then the IB Diploma Programme in Years 12 and 13. Our enhanced selection of topics, called 'electives' within the curriculum aligns us with the expectations of top independent schools in the UK.
Classes at Dulwich College Puxi are small, well resourced and well supported. There are typically around 10 students in most lessons. Our highly qualified, specialist teachers are extremely knowledgeable and encouraging. They really spend time getting to know students and families, to ensure they form positive working relationships with open communication, so that students feel well supported as they progress through the Senior school towards higher level exams.
Dulwich College Puxi offers IGCSE options from both Edexcel and Cambridge examination boards, to ensure students have choice and depth in their subject range.
Our co-curricular activity programmes provide opportunities for students to excel and develop passions for and skills in sports, performing arts and academic enrichment. We also encourage all our students to take part in service projects that address local and international needs. As part of our Senior School experience, students participate in The Duke of Edinburgh's International Award. This is a fantastic experience for our students as it takes their learning out of the class, away from books and focuses very much on the life skills they will need to ensure when they finally leave us, they are worldwise.
Below are copies of our IGCSE books and Parent Handbooks. The information you will find on these pages gives a flavour of what we offer. Please find some time to visit our impressive facilities and meet our amazing students and passionate staff.
We look forward to welcoming you to the College.
Kelly King
Deputy Head of Senior School