Parent Information and Support
Support Groups and Life Balance Resources
A school is a vital part of any community. It's the place where parents meet, where children are inspired and where life-long memories are born. We understand and value the contributions that our parents make to the success of our school. Here we would like to share with you some external support groups and parent resources to further help our families live emotionally healthy lives.
Lifeline Shanghai
Lifeline is an English-speaking helpline, which provides free, confidential, and anonymous emotional support for anything from the little stresses of daily life to more acute issues. After someone calls in, hotline assistants help by suggesting additional services in Shanghai or simply by listening. Call between 10am and 10pm, 365 days a year. During lockdowns, Lifeline can be contacted via WeChat.
Phone: 6279 8990 or visit lifeline-shanghai.com for more information.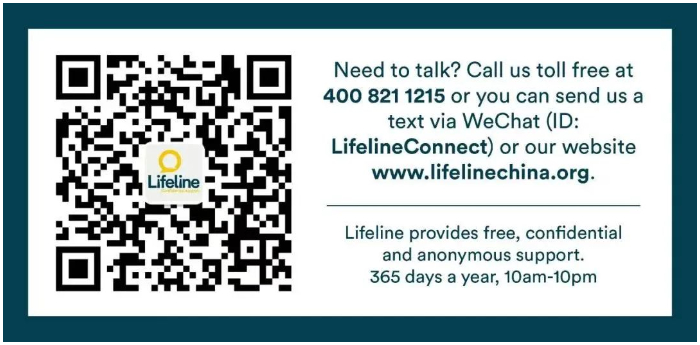 Shanghai Mamas
Shanghai Mamas is a place to connect with international families, find your niche in the city and meet lifelong friends! Visit shanghaimamas.org for more information.
Visit shanghaimamas.org for more information.

LIH Olivia's Place
Originally founded by two parents who discovered the scarcity of support for children with Down's syndrome in Shanghai after the birth of their first child, LIH Olivia's Place provide world-class, multidisciplinary pediatric therapy services to children of all abilities, ages birth to 18 years.
35 YongJia Rd, 19th Floor (at Maoming Rd) HuangPu District, Shanghai, 200020
Phone: (8621) 5404-0058; 5404-0059
General Inquiries: service_sh@lih-oliviasplace.com
United Family Healthcare
United Family Healthcare is an international healthcare organisation, which provides comprehensive, integrated healthcare services including mental health treatment.
Emergency number: 2216 3999 or find out more at http://shanghai.ufh.com.cn/en/

Shanghai International Mental Health Association (SIMHA)
SIMHA Provides mental health services to the international communities in Shanghai, with approximately 40 member therapists representing 13 different nationalities and 11 languages.
Website: http://s-imha.com
Shanghai Mental Health Center
Shanghai Mental Health Center is a Chinese oriented mental health clinic, which offers prevention as well as psychological counselling. There are six relevant departments, including;
Clinical Psychology Department
Division of Mood Disorders
Geriatric Psychiatry
Child & Adolescent Psychiatry
Drug Abuse Treatment Centre
Adult Psychiatry
Phone the Outpatient Department for appointments at 6438 7250 or find more at http://www.smhc.org.cn/
Parkway Health
An international medical centre with locations across the city, Parkway Health's team of psychologists treat patients of all ages, specialising in the likes of Cognitive Behavioural Therapy, family counselling and more.
Phone for appointments at 400 819 6622 or find out more information at parkwayhealth.cn.

Community Center Shanghai
A community-led organisation that offers support to individuals and families adapting to life in Shanghai through events and classes, Community Center Shanghai also has a number of trained counsellors on staff and multiple locations across the city.
Phone their hotline at 3382 1170.
Email them at counseling@communitycenter.cn or find out more information from their WeChat account (CCSShanghai).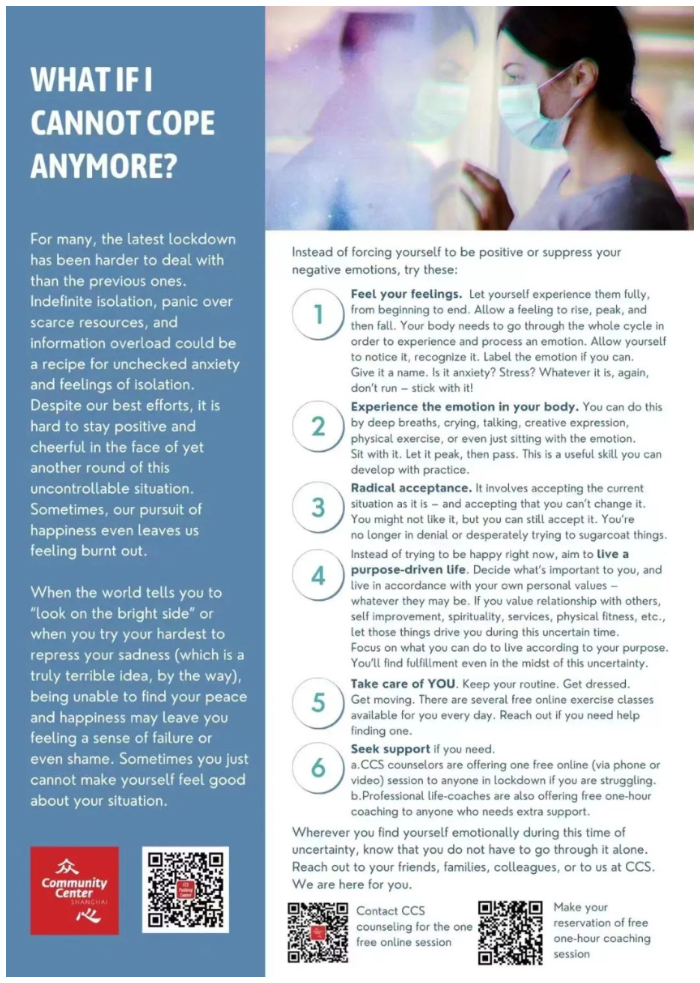 Essential Learning Group (ELG)
A social enterprise that aims to help kids with special needs, Essential Learning Group (ELG) offers half- and full-day programs for children who cannot successfully access the curriculum of a regular school environment, or are in need of early intervention.
Client Hotline: 4006 129 423
Main Office: +86 21 5206 6273
Email: services@chinaelg.com