Remembrance Day: Seeing the Impact of War through a New Lens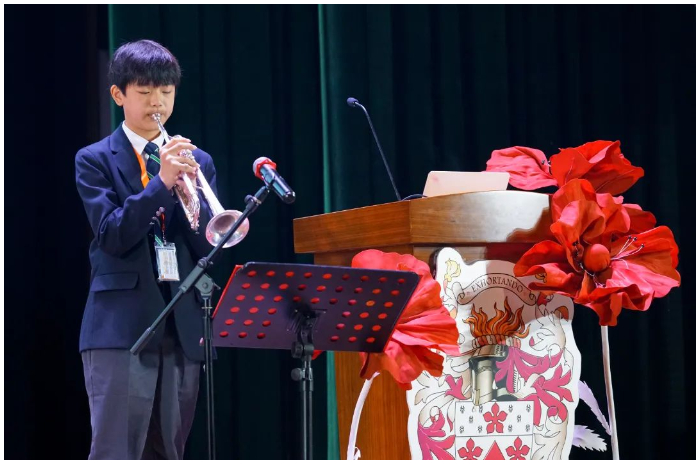 On the morning of 11 November, the Dulwich College Shanghai Puxi community came together to commemorate Remembrance Day, an annual tradition with deep and significant meaning to the Dulwich community.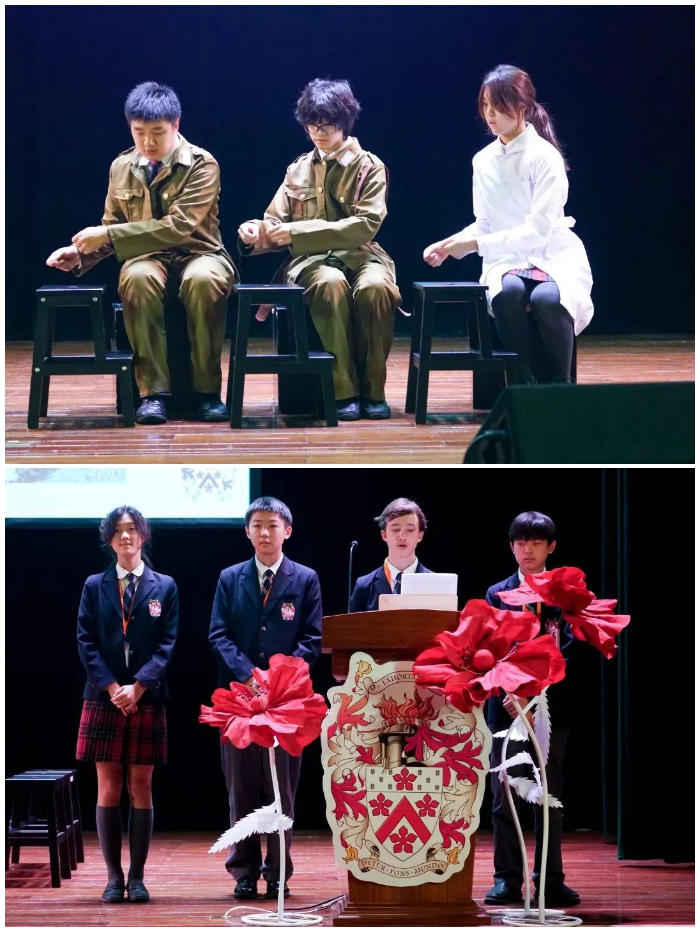 This year's Remembrance Day assembly focused on the impacts of war through a new lens; the impact on animals.
Tony Pickhaver / Deputy Head of Primary
————
Much is well known and documented about the human experience and suffering during these infamous conflicts, but the human perspective is not the only one. This year's Remembrance Day Assembly centred around the many animals which were used during the war, their purpose, skill, dedication to their masters and ultimate sacrifice.
Using figurative language techniques, students composed their own poetry from the perspective of these selfless creatures. Samples of these poems were shared to the whole College during our assembly.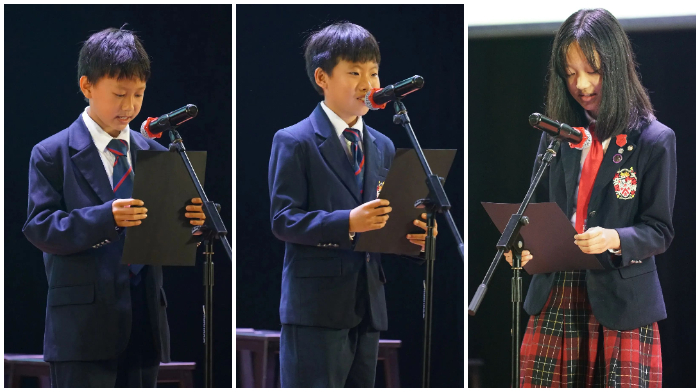 War Dog
Allen Z, Year 6 Pegasus Class
————
Shaking legs and feeling weak,
Moving out to get to the peak,
Want to go home to lay on the grass,
My heart is breaking, into glass.
Zooming towards my wounded master,
I know I need to run- get there faster,
Further! Further! To get my orders,
Only I can reach the borders.
Sprinting fast into battle,
Cannon, screams, guns, I hear them rattle,
My master screams, "Go, go, go!",
I must save him, I grunt- No, no, no.
Medicine Dogs
Kevin C, Year 6 Chimera Class
————
We were going to war…
Fear rippled through our hearts.
Us dogs were armed with medicine, and we were ready…
A dangerous silence enveloped.
We stamped our paws and we felt it too,
We traded scared glances with each other,
BOOM! BOOM! we went to war,
Blood splattered all over the mud.
Canon blasts and machine guns rattled like ravenous rattle snakes,
Screams, (loudly) horrified yells,
Bombs dropped over our heads making craters when they exploded
Then finally there was a dreadful silence, and the frightful battle ended
We went to find the injured…
When the fighting had reached an end only a few people remained...
For us to help and protect.
The Beginning to Darkness
Cecilia H, Year 6 Hippogriff Class
————
The soldiers marched to the front line,
The tension was high, lurking the battle front.
The race had begun.
The battlefield was scarlet.
Fire flared furious flames,
Savagely scavenging on the dead corpse of men.
Smoke, ashes and toxic gas swallowed everything that is within our sight.
Its deadly tendrils drifted towards me, scenting me, searching for me.
Raging tramps of numerous footsteps shook the ground to its roots.
Rumbling, grumbling and thrumming,
Men dashed from all direction- stumbling, staggering and fleeing.
Bloodshed, machine gun's rattles thundered with my pounding heart.
"Charge! Charge!"
The enemy snarled and sneered, rubbing their hooves against the ground.
We reared up to our hind legs, battering the air with neighs of courage.
Then without another warning we launched at one another with merciless strikes.
The starting pistol of the battle shot its bullet,
Only this was a race no man could win…
When we remember all the people who suffered or sacrificed their lives for the peace of today, let us also remember the many maimed or lost animals who played a crucial role in the war effort too.
Remembrance Day is an important annual tradition at Dulwich College Shanghai Puxi. We firmly believe that unless we can learn from the lessons of the past, we are bound to repeat the same mistakes made before us. As we aspire to create a safe and prosperous future where nations come together in dignity and mutual respect, we must remember the dire consequences of failing to do so.