Sporting Passions Ignite at Dulwich College Shanghai Puxi
At Dulwich College Shanghai Puxi, we come together to celebrate the sporting achievements of our students both within the College, and in their lives outside school. A passion for sports runs deep in the culture of the College, and we are proud of our students for all of their achievements, whether under the banner of the Mustangs, or in an individual capacity.
Term 1 in the 2021-2022 academic year has finally seen the return of sporting fixtures, and our students have been eagerly taking up the opportunities afforded them to compete both at home, and throughout Shanghai and beyond.
Dulwich College Shanghai Puxi are members of a range of sporting associations throughout the China and beyond, such as;
SISAC (Shanghai International School Activities Conference)
CISSA (China International School Sports Association)
SSL (Shanghai Swim League)
Shanghai Netball League (SNL)
British Schools League (BSL)
ACAMIS (Association of China and Mongolia International Schools)
FOBISIA (The Federation of British International Schools in Asia)
Our world-class facilities allow us to host many of these sporting fixtures on campus, and it is a pleasure to witness the resurgence of friendly competition with our international school colleagues across the city. Whether using our Olympic-sized 50 metre swimming pool, our 2,000 square metre indoor gymnasium, or our natural lawn football pitch, the Dulwich College Shanghai Puxi campus is perfect for supporting a wide range of sports.
Some of the fixtures we have hosted and participated in this term include;
Under 19 Netball
Under 9 Football
Under 11 Football
CISSA Junior (Year 6 & 7) Football
CISSA (Year 8 & 9) Football
FOBISIA Gymnastics
SISAC Basketball
Under 9 to 15 and Over Swimming
In the upcoming Terms, we will also participate in:
Under 9 Netball
Under 11 Netball
Under 9 Football
Under 11 Football
CISSA (Year 8 & 9) Volleyball
CISSA (Year 8 & 9) Basketball
SISAC Football
Under 13 Netball
Under 15 Netball
Under 9 to 15 and Over Swimming
We have seen some great success of the Mustangs in Term 1, as they shake off some of the dust from the COVID-19 gap in official fixtures. It's great to see all of our students igniting their passion for sport with the Mustang spirit of Pride, Passion, Desire and Belief.
Some special moments for our Mustangs this term have been:
The Under 9 football team winning home and away football tournaments.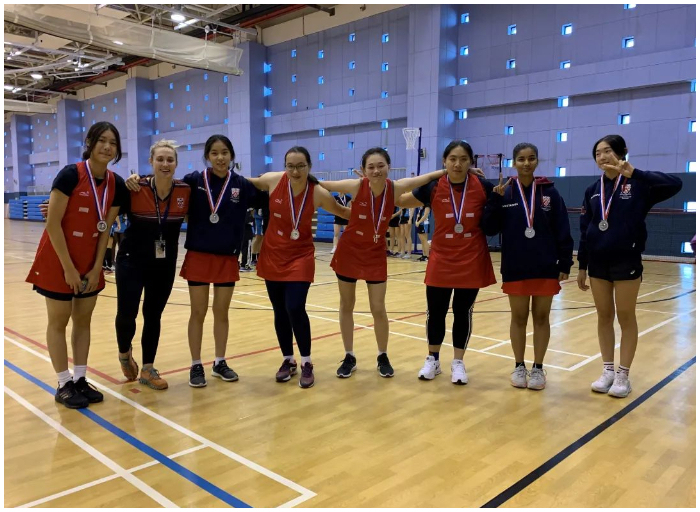 The Under 19 medals in the Under 19 netball tournament.
Our Senior School swimmer, Samantha, coming 6th in Shanghai in the SSL round 2.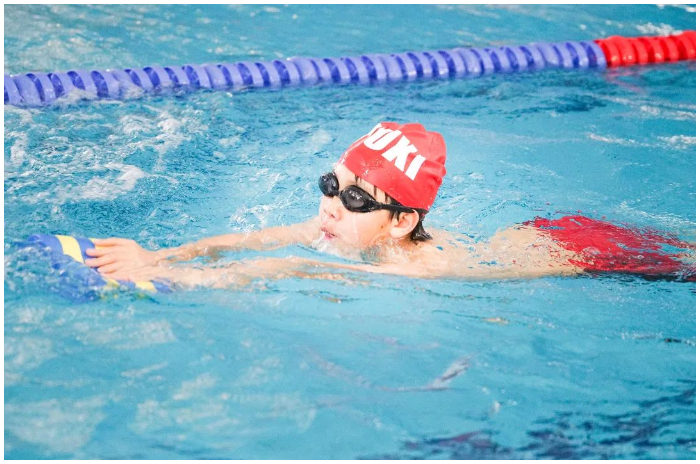 The under 15 swim squad winning 24 of 30 races atthe Swim Gala.
FOBISIA gymnast, Bella, claiming 5th place, out of 39 participants in our first ever FOBISIA event. This is an across Asia event, meaning Bella came 5th in all Asia.
Year 8 and 9 boys CISSA football team competing in the first Cross River Event for Dulwich College Shanghai Puxi.
Our first SISAC matches to launch us into the league for High School sport.
However, it is also important to recognise that a passion for sport, while ignited and supported at the College, often sees our students competing at a high level across the China in a range of sports outside the regular fixtures, including judo, fencing, sailing, skiing, horse riding, floorball, dance and many more. Below, let's celebrate some of our students for their contributions to sport outside the College;
Jemima, Year 12
A keen horse enthusiast, Jemima has dedicated her time over the past 2 years to developing her horse-riding ability. In early October, she took to the paddock to compete in her first show jumping competition. With up to 80 competitors fighting for the top place, Jemima, in her first competition, delivered a clear round with no refusals and no time penalties, putting her within the top 25% of the day. Well done Jemima!
Shuhan, Year 5
A member of the Mustangs football team and our Sports Ambassador, Shuhan is also a highly ranked fencer! Shuhan competes in sabre fencing, stating that she enjoys sabre fencing specifically because it is the fastest version of the sport. She has been training for two and a half years and has already won gold at three major competitions – all three of which were Chinese national competitions, where all children of the same age in China (U10) compete.
"I enjoy fencing for a lot of reasons. One reason is that it is exciting and fun. You need to use your brain a lot and be smart with your techniques. The smarter you are, the more fun you have. Even though many people think that the whole point of fencing is just to stab people with a sword and always ask me, 'How do you do that?' 'People could easily defend you if you just directly put your sword forward?' The more questions you have the more answers you need. So fencing is really complicated. That's what makes it fun."
Chloe, Year 3
Chloe started judo at just 5 years old and has developed her skills to a competitive level. Competing just a few weeks ago in a Shanghai wide competition, Chloe took the silver medal for her age group. "I like Judo because when I grow up I won't get hurt, it makes me feel strong and I enjoy that".
Agatha, Year 9
Currently ranked as the number 1 fencer of her age in China, Agatha competes all over China and Asia to the highest standard, often winning gold medals at these prestigious competitions. Agatha has been training since she was 8 years old and now trains several times a week to be able to perform at these high standards and is also a valuable member of the Mustangs under 15 and under 19 netball team.
Cindy, Year 10
Our IGCSE PE student, Cindy, is an avid sailor. She most recently competed in a regatta at Dianshan lake claiming 6th place. Cindy not only sails outside of school but is also a member of the under 19 netball team. Cindy's younger brother, Eason, also sails successfully!
"I like to sail because I get to spend time training with my teammates, and I find it enjoyable being on the water."
At Dulwich College Shanghai Puxi we aim to ignite a passion for sporting excellence in all our students. Whether they are competing in one of our regular fixtures as a Mustang, simply participating to the best of their abilities within the regular PE curriculum, taking an additional sporting CCA, or competing at a national level in a sport outside the College, we congratulate every student for their effort and achievement in sport in Term 1, and we cannot wait to see what the rest of the academic year holds in store.
We look forward to igniting more passion in sport, and always living up to the Mustang spirit of Pride, Passion, Desire and Belief.