Student Voice: Performing Arts and the Traditional Pantomime
Dulwich College Shanghai Puxi is made up of students from around the world, with a depth and breadth of experiences that create a vibrant, thriving student body community.
Our goal is for all students to Graduate WorldWise; that is, to leave the College with the skills, experiences and attributes required to be successful 21st century global citizens. When our students go out into the world, they have been trained for years to lead, work collaboratively, seek connections, find common ground and to be empathetic.
In this series of Student Voice articles, we provide a platform for the students in our community to share their experiences and passions and we explore how Dulwich has helped them Learn Worldwise, so they can Graduate Worldwise.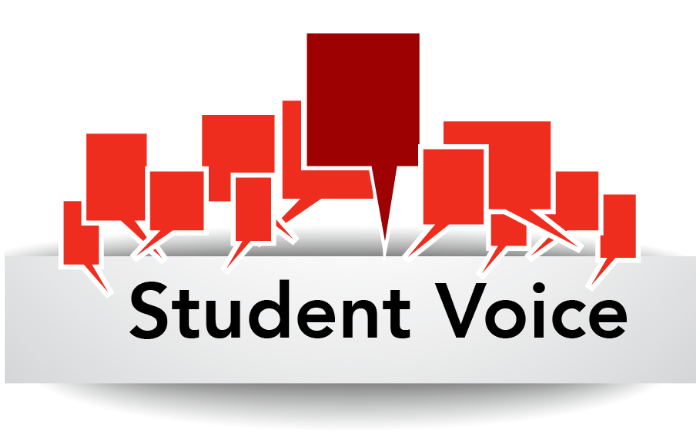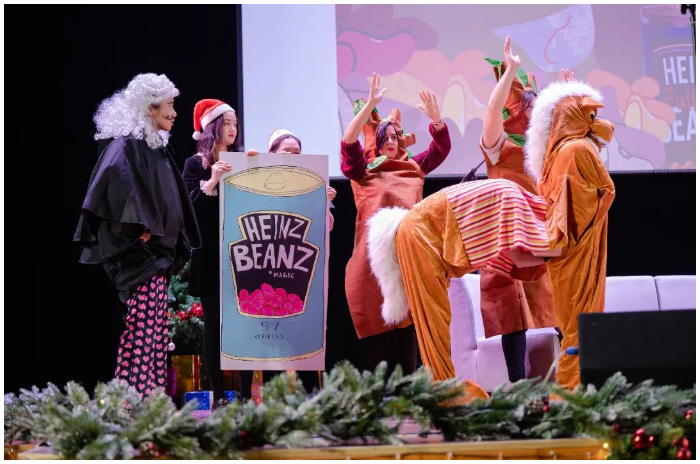 What is pantomime?
————
Pantomime came from Commedia dell'arte which originated in Italy during the Mid-16th century, where troops of men would deliver improvised narratives of two lovers with a meddling father. However, this tradition was brought over to England where new elements were added such as the pantomime dame, who – in this year's Dulwich College Shanghai Puxi Staff Pantomime - were excellently played by Mr. Chappel and Mr. Saunders. Pantomime Dames are essential in every pantomime and are not a silly excuse for men to run around in dresses. This element was taken from Shakespearean plays as men had to play female roles. The main purpose of pantomime is to create laughter and joy during the holiday season. They are also mainly based on fairy tales to make them accessible for all ages.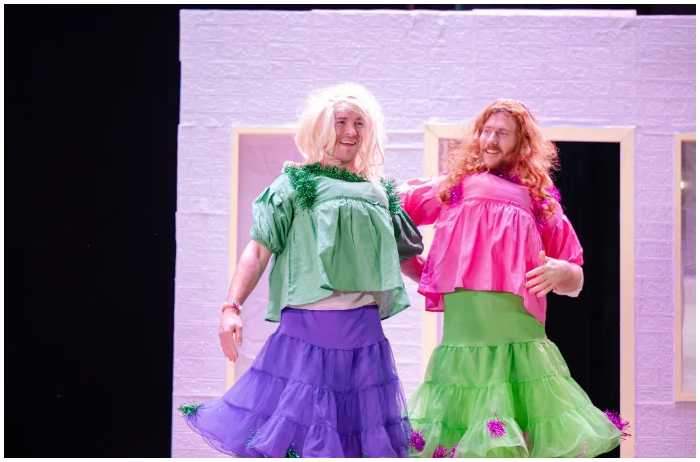 Our staff pantomime 'Jack and the Bean Tin' not only involved staff members working during lunches and after school, getting in and out of costume to create this wonderful show, but this year also included significant student participation. IB Theater students, Jemima (Year 12) and myself (Curtis, Year 12), co-directed the pantomime. This acted as a learning opportunity to enrich our studies in new theater style.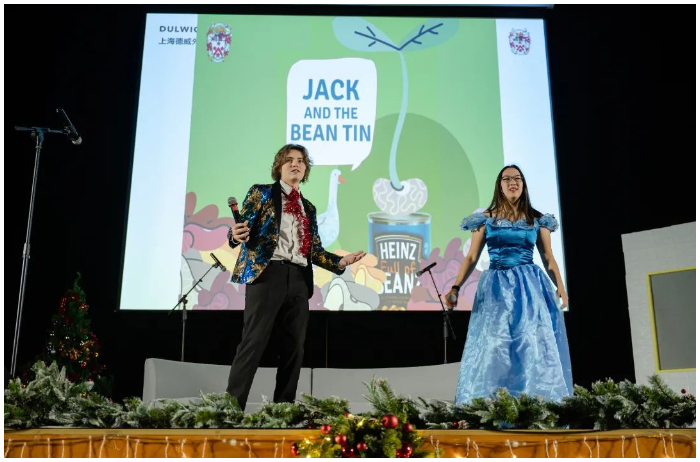 Jemima, Year 12
When I was younger, I can remember going to watch pantomimes during Christmas. I remember thoroughly enjoying the songs and the gags, especially when they threw sweets into the audience. It was a highlight during Christmas time, seeing the characters dancing and joking around. After co-directing Jack and the Bean Tin, I now understand the amount of planning and effort needed to produce a pantomime instead of it being random and haphazard. The teachers were all wonderful to work with and they all made my experience of directing very delightful! I can't wait to see what next year's pantomime will be!
The staff pantomime provides an opportunity for staff members across the school to work together in an environment which they typically would work in. Building positive working relationships are key to any performance and this year's cast had fully embraced the pantomime, working around busy schedules to meet and rehearse their lines. Teamwork and creating a welcoming environment which encourages mistakes - and laughter - is one of keys to developing yourself in Drama: finding out what went wrong and learning from mistakes to better develop yourself as a performer.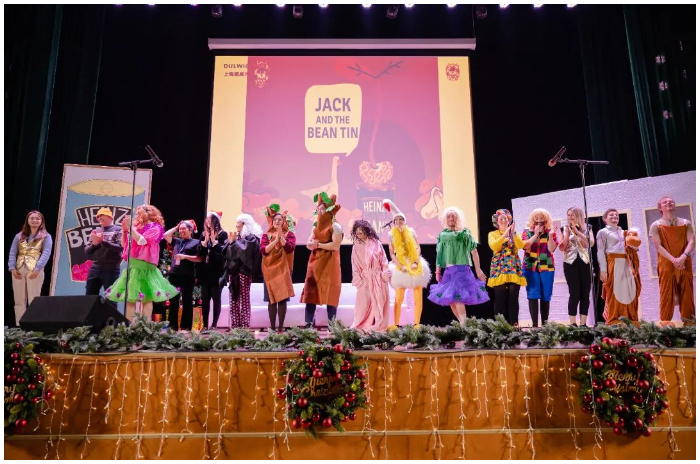 Here are some quotes from our very own cast!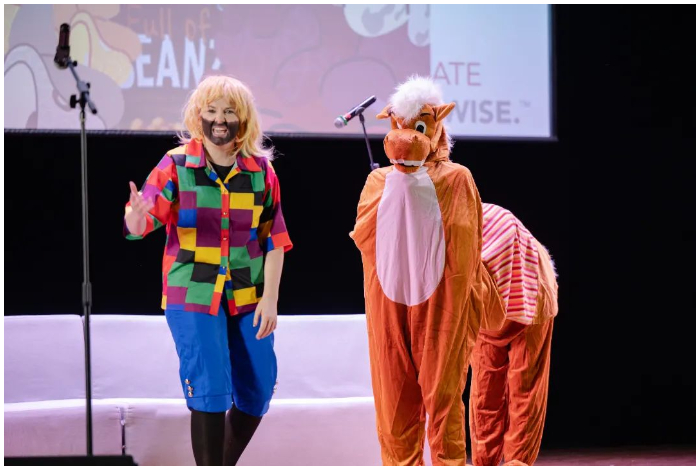 Katie Hill (Jack)
As a student, I always enjoyed drama lessons and studied it at GCSE and A Level. When I heard about the staff panto, I was interested to be part of it as I really enjoy performing. Learning all my lines was definitely a challenge but a good one and it gave me fond memories of my drama days at school. In addition, it has been great to have the opportunity to work with different staff and to be guided by the IB students. Special thanks to Jemima and Curtis!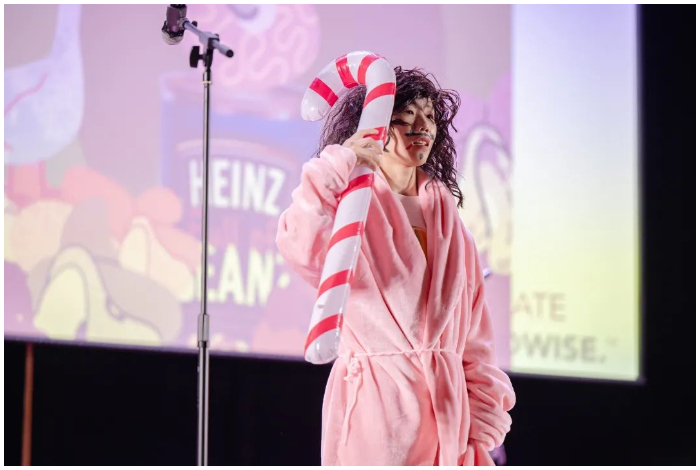 Lili Li (The Four Foot Ten Giant)
In the Dulwich College Shanghai Puxi community, everyone is making a difference. I was new to the stage, and I was very nervous about performing on such an important stage for the first time. It was definitely a big challenge for me to memorise the lines and practice the movements. But I just want to challenge myself and I think it's a way to relax. The rehearse time was full of laughter and it is enjoyable. Our IB students gave me professional guidance. They helped me improve my lines and movements. Thank you to Ms Ivey for organising it and Jemima and Curtis for your excellent work!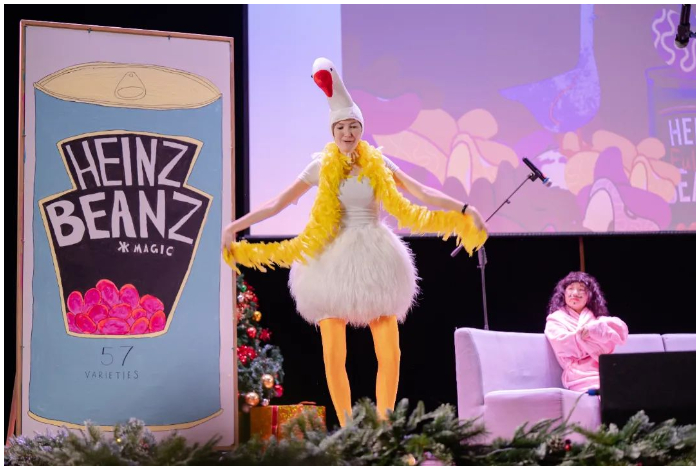 Aisling MacSweeney
It's been a pleasure to take part in the staff pantomime this year, working with the IB drama students and staff from all over the school. It's been a great opportunity for staff to come together, try new things, make mistakes and then learn from each other and our excellent students!
The staff pantomime is another example of the great community spirit we have here at Dulwich College Shanghai Puxi, and I was proud to have co-directed the performance alongside my classmate Jemima. This was a wonderful experience, and one that has enriched my studies. Thank you to all the staff who so generously offered their time to make this a success.