Studying Global Business at Dulwich College Puxi
Global business visionary, Jack Ma was quoted saying: "Today making money is very simple. But making sustainable money while being responsible to the society and improving the world is very difficult."
Business Studies in the Senior School focuses on this potential.
Ms. Francine Hearn and her students in the Senior School are currently learning to understand the basic economic problem of scarcity and the allocation of resources. Students are enjoying this because they are developing an appreciation of the difficult choices that governments around the world make, and the opportunity costs incurred from these choices. In the exploration of Business Studies, our Year 10 students are particularly focused on 3 key business questions, and the potential of their answers:
What to produce
How to produce
For whom to produce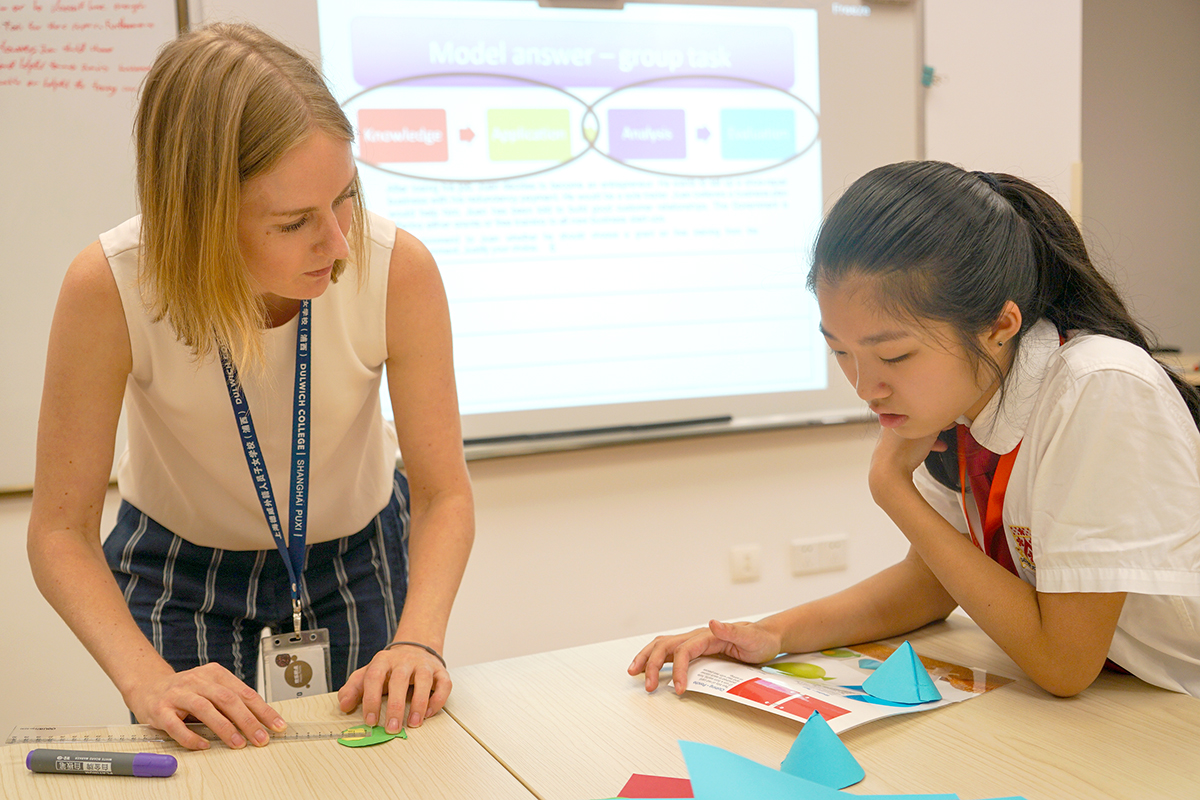 Francine, you have a very positive track record for helping Senior students be highly successful in their study of business. Please tell us how you motivate and inspire your students to succeed…
I believe in fostering a culture of hard work, a love of learning and success and this is reflected in my teaching style. Getting to grips with the expectations and demands at IGCSE level can be challenging, therefore, for Year 10 students I provide students with support and opportunities to take control of their learning and develop independence so that can meet those demands now and reduce the pressure in Year 11. My teaching style and delivery constantly changes depending on the topic. I believe in Business Studies the provision of varied, engaging, thought-provoking and memorable lessons is the key to understanding and applying theory.
What is your favourite aspect of teaching?
There is nothing better than the sense of achievement students feel on results day. Hard work pays off. And we do work hard.
What is the most important thing for students to remember in your classroom?
To take risks in the classroom and learn from the mistakes that we make.
How do you hope to make a difference?
I hope to support students in building lifelong learning skills for continuous growth.
Getting better never stops. What are you looking forward to learning more about?
I am looking forward to learning more about the students at the school.
Why Shanghai?
We wanted to be based in a city that offers a range of activities as well as the endless choices of cuisines that Shanghai has to offer.
Share a quote that resonates with you, and why?
"The path to success is to take massive, determined action" - Tony Robbins
There is just no getting away from the facts - to achieve our goals, whatever they might be ultimately requires action, perseverance and hard work.