A Spotlight on Maths at Dulwich

The Maths Curriculum at Dulwich has a strong reputation for rigour. Students are taught from a young age to understand the logic behind the numbers, and are expected to be able to present that logic in a way that makes sense to others. This is an important factor in the teaching and learning of the Maths Curriculum because it encourages students to become solid mathematicians who can apply that same study of logic to other areas of their learning.
Jonathan Haworth plays a winning hand when it comes to the teaching of Maths. Whether his students are number-wizzards or number-shy, his skill in developing students' confidence and math-ability is already a stand out feature in the College. Under Jonathan's guidance, Maths continues to be a very popular subject at Dulwich Puxi with students often sharing that they feel a great sense of achievement when he helps to understand those tricky maths concepts.
We asked Jonathan to share his insights with us into Dulwich's exciting Maths curriculum, and how he helps students to develop their appreciation and skills for the fast world of numbers…
MATHS CURRICULUM SPOTLIGHT
Our Year 6 students are currently focusing on Calculations and Number Properties. Students are enjoying this because there are lots of opportunities for competition and challenging ways of approaching large scale problems.
In Year 7, students are currently focusing on Writing Expressions and Using Formulae. Students are enjoying this because it shows how we can mathematically model the everyday world. There is a practicality about this unit which brings the world alive for students in ways they didn't consider previously.
Our Year 8 students are currently focusing on Angle Facts. Students are finding this challenging because there are a number of ways that angles work together and it can be difficult to explain how to solve a problem using a specific method and keywords.
Year 9 students are embracing Simplifying Algebraic Expressions. Students are finding this tough at the moment because it really is like learning a whole new language… and then understanding how to use contractions and slang within that language! They will get there with lots of practice.
Our Year 10 students are currently focusing on Numerical and Algebraic topics for the iGCSE Mathematics (Extended) Course. There are a lot of high level concepts here, and students are enjoying finding their own ways of explaining how to use them with the knowledge they have of numbers and calculations.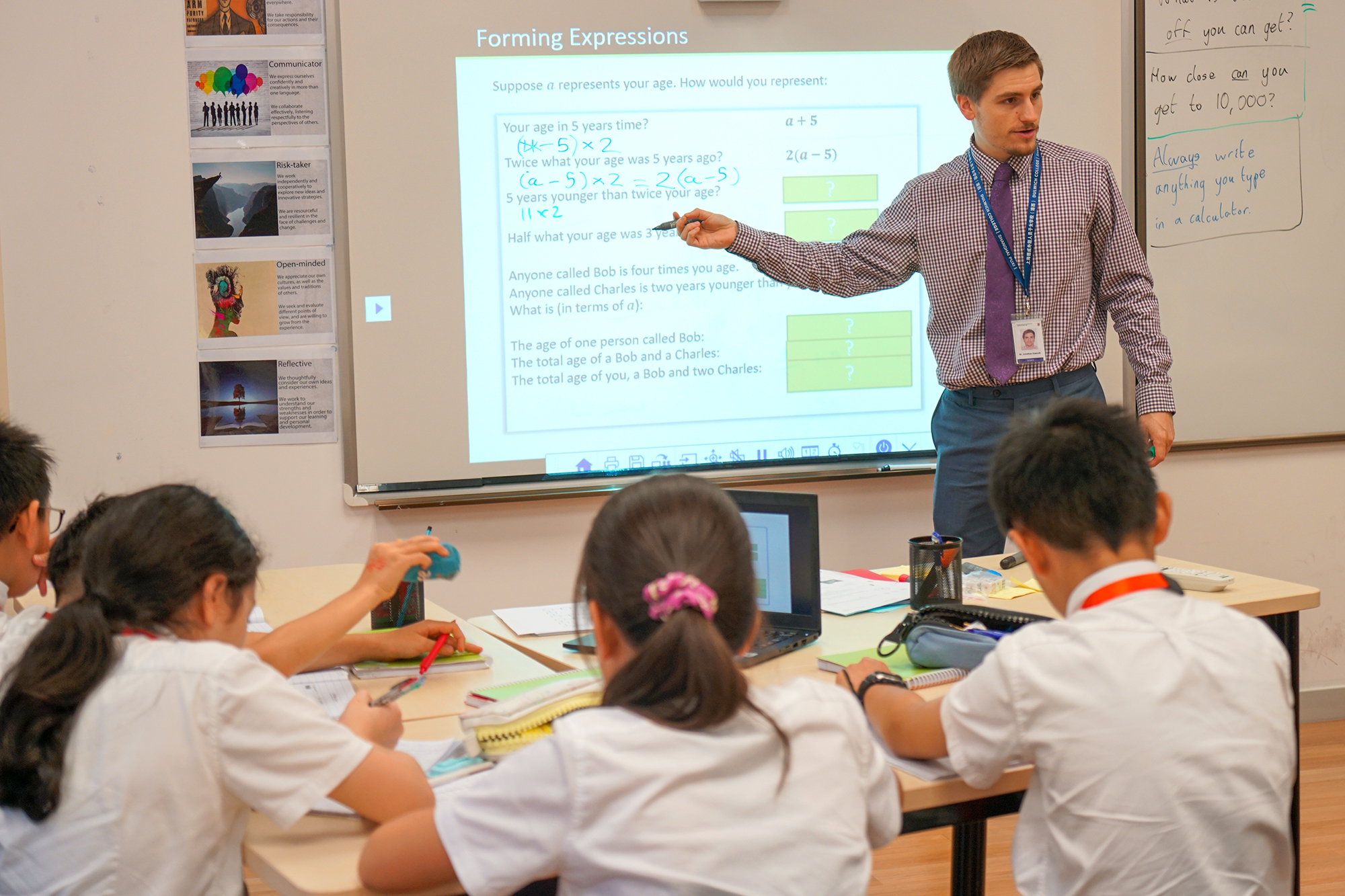 Tell us about your teaching style in class?
JH: I am enthusiastic, positive and love to play games and solve puzzles, so that is most of what I set for students to do. Solving a maths problem is always a pleasure, but using maths to solve a big challenge is exhilarating!
What is your favourite aspect of teaching?
JH: Watching a student smile and develop a sense of self-appreciation when they do something they thought they couldn't do.
What is the most important thing for students to remember in your classroom?
JH: That 'attempts' (not mistakes) are the best way to learn, and should always be analysed before trying again.
How do you hope to make a difference?
JH: By giving students the desire to improve by seeing how much fun it can be!
Getting better never stops. What are you looking forward to learning more about?
JH: I have been looking forward to learning Chinese since before I arrived. I will be taking classes in the evenings!
Why Shanghai?
JH: I have always been fascinated by Asian culture and I have not been disappointed with all the opportunities to explore in the city! I am also amazed by how green Shanghai is for a city!
Share a quote that resonates with you, and why?
JH: "Don't be afraid to give up the good to go for the great." – John D. Rockefeller
I have had this quote on the wall of my classroom for years and it continues to be the most important thing about learning in my classroom.
Why settle for 'just good enough'?