Early Years Care Routines – Setting our Toddlers up for Success
Life at Dulwich College Shanghai Puxi starts with our youngest group of students, the Toddlers, who join at two years old. As such a formative age, Toddler is an important year for our children, providing them opportunities to learn skills and competencies from an early age, in the care of highly professional and qualified Early Years practitioners. Care Routines are a core element of that provision, giving children the confidence and agency to be independent, taking ownership of their self-care as they progress through to Nursery and beyond. Here, Gemma Stanton, Toddler Lead Teacher, outlines our philosophy on Care Routines, and how they set our Toddlers up for success.
Academic successes, along with triumphs in sports and arts, are enjoyed and celebrated regularly by the entire Dulwich College Shanghai Puxi community. In the Early Years, the exemplary care that our children receive from their teachers is among the building blocks of what ensures they are set up for future success. Dulwich College Shanghai Puxi offers the best possible opportunities for all our students; ensuring they are well equipped to become Worldwise, enjoy victories on the sports field and stage, and gain entry to top universities worldwide. The same goals of being successful and feeling a sense of achievement that permeate through the College culture to Senior School, are nurtured from the very beginning of our students' academic lives in the Toddler classroom, where children's agency and independence guide everything that we do.

Clear care routines and expectations are an essential part of life in the Early Years department at Dulwich College Shanghai Puxi. We believe that school life should be home away from home. Parents should have a complete understanding of how we carry out care for children with the highest standards of professionalism; safeguarding them against risk and promoting good social, emotional, and physical development. We want our children to work hard during their time in the Early Years, learning to be independent managers of their own care, beginning to understand consent, having healthy attitudes towards relationships, and managing their own needs successfully.

Some of our key Care Routines include:
Sleep routines
Toilet care
Snacks and mealtimes
Sun and mosquito care
Changing clothes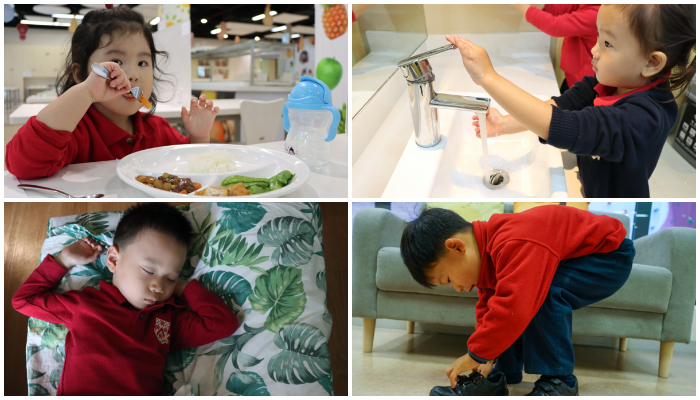 With all these care routines, we believe that involving the child is vital; even in a process as simple as a nappy change. Helping children to change their nappies or clothing or use the toilet is highly relevant in our classroom age group, but the way that we handle each child's changing or toileting routine is also reflected in every little thing we do with and for children.
"An invitation and explanation is a simple matter of respect. Imagine being asked, being heard, and holding the power in matters affecting your physical well-being. For most adults this is accepted as a basic human right. Now imagine someone physically lifting or interfering with you in any way to which you have not consented. In the second instance, when you were not invited or consulted, the experience is one of powerlessness. You might feel more like an object rather than a human with individual thoughts, opinions, freedoms and rights." — Christie, 2012
Given the exemplary levels of support provided by respectful, professional and qualified adults, we thus have high expectations for our youngest learners by the time they reach the end of Toddler. Our students move through to Nursery being able to manage most of their own care routines with independence and growing confidence; removing their own trousers and using the toilet on their own, with little need to ask adults for support. The Toddler children choose their own snack and feed themselves competently at mealtimes, using a fork or spoon to eat their lunch and with the knowledge and language required to ask, "More please," "Help me please," or reply "No thank you," when adults offer help or another piece of fruit.
To reflect the expectations we hold around children's agency in their care routines, we also have clear expectations of children in particular areas of the classroom. For example, when the Toddler children wish to paint, they have free access to paint – however to communicate that this is where they are choosing to play and learn, they need to first put on an art t-shirt. Adults will offer help to do so, however we see that most of the children take pride in being able to put these shirts on by themselves. The Toddler children also understand that when they wish to play on the soft play mats in our Breakout Space, they must remove their shoes first. Before they leave this space to choose a new area of play, they need to find their shoes and try to put them back on independently. Our guidelines and expectations in the Toddler classroom all link back to our belief that our children are independent and highly capable learners. The children know that they can take ownership of their learning and care routines as much as possible. They understand that we will give them time to first try to help themselves, but that they can always communicate with us if they need our help – and that only they can decide how much help they require.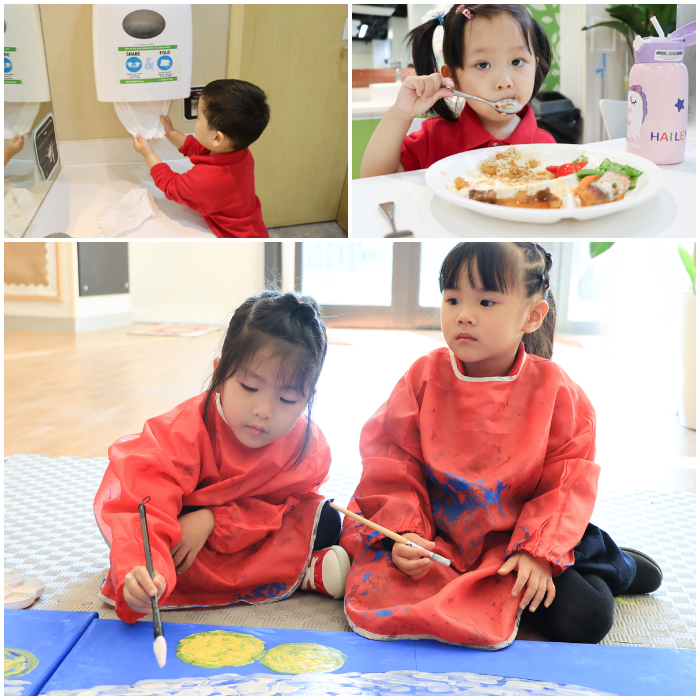 Toddler is an incredible year. As a child's first year of schooling, it is understandably a year that carries a lot of emotional weight for parents and their children. At Dulwich College Shanghai Puxi we understand how to effectively manage this crucial and formative year to ensure that our littlest community members start their schooling journey in a very positive way. In Toddler at Dulwich College Shanghai Puxi, our children learn the vital skills they will need to later in life in a safe, caring and enjoyable environment.
If your child is approaching Toddler age and you would like to learn more about our Early Years programe, please reach out to our Admissions team, who are happy to arrange a personalised admissions journey for your family.