Enriching and Empowering through Public Speaking Opportunities
One of our core goals is to help our students Graduate Worldwise: that is, to develop in them the skills, motivations and experiences required to be successful global citizens in the 21st century. When our students graduate from The College as International Old Alleynians, we want them to be equipped with a range of essential skills. Effective communication is one of these skills. The ability to engage and inspire large audiences or connect with and motivate group of peers is powerful to say the least. Public speaking, whether in the classroom, in the boardroom or in an auditorium, is a skill that cannot be replaced by AI. It is a skill which many of the world's leaders have worked hard to perfect. At Dulwich College Shanghai Puxi, we incorporate public speaking as an integral part of our curriculum and develop a communication skill set in all students.
A whole College approach to oracy
We recognise that not everyone is a naturally gifted public speaker. Presenting in front of others can be a nerve-wracking experience for children and adults alike. It can be especially challenging for those students for whom English is not a native language. However, we support our students' development as public speakers by providing a structured and systematic approach to oracy and a wide range of enrichment opportunities in both low and high stakes settings. Through these opportunities, students grow in confidence and acquire a range of valuable communication skills that will serve them well into the future. What are these skills that feature so prominently at Dulwich College Shanghai Puxi?
Confidence
Body language
Eye-contact
Tone of voice
Volume
Movement
Pronunciation
Grammar
The rigour of the English Speaking Board
At Dulwich College Shanghai Puxi, our Primary School students have a proud tradition of undertaking the English Speaking Board (ESB) qualification. Working through four tasks that support the development of a range of speaking and listening skills, students are assessed against a strict set of criteria. Students take pride in preparing thoroughly for the ESB assessment and enjoy rising to the challenge. Mrs Rowland, Assistant Head of Primary School, explains: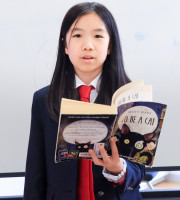 At Dulwich College Shanghai Puxi, we encourage every student to articulate themselves confidently and with purpose. This term, our students from Year 2 to Year 6, had the opportunity to develop and enhance their oracy skills by completing the accredited English Speaking Board qualification. The assessment focuses on developing quality, confident oracy abilities through performance and presentation, enabling our students to progress in their ability to develop fundamental, real-life language skil
- Kathryn Rowland, Assistant Head of KS2
In previous years, Dulwich College Shanghai Puxi students have achieved exceptional grades in the ESB. In 2020, all students earned a distinction or merit, including those students for whom English is not their native language. We wish all those students who took the English Speaking Board last week the best of luck, and congratulate them for having the courage to participate.
Exciting enrichment opportunities for public speaking
Complementing our whole College approach oracy is our commitment to providing a range of meaningful opportunities to apply and develop their public speaking skills. For example, last week, students across The College had the opportunity to participate in Poetry Week fondly known as Poetry@Puxi. From House poetry slams to personal recitals and from impromptu open mic sessions to formal readings, Poetry Week empowered students to test and train their presentation skills in a range of contexts. Earlier this year, Year 1 students made a business pitch to successful entrepreneurs from our parent community in their bid to market and manufacture sustainable toys. They spoke with confidence because they were enthusiastic about their project and motivated by presenting to a real audience. Similarly, Year 9 students participated in a mock trial as the culmination of their study of Harper Lee's To Kill a Mockingbird. It was inspiring to see our students demonstrate their ability to present their case with ability and authority.
Earlier this month, the world was awed by Amanda Gorman, the remarkable poet who performed at President Biden's inauguration ceremony. She demonstrated confidence and composure, creativity and craft. This doesn't happen by accident. It is the result of a lot hard work and a highly developed set of public speaking skills. These skills and the opportunities to use them are embedded in our College. We look forward to seeing our students stand up and express themselves with the same poise and passion.