Generating Holistic Growth through Outdoor Learning Experiences
Collaboration, leadership, and challenge are the core concepts that make an unforgettable outdoor learning experience, and one which we are proud to provide our students at Dulwich College Shanghai Puxi.
This year, the outdoor learning program aimed to challenge our Junior School students to not only take risks beyond their personal boundaries and explore their surrounding culture, but also encouraged them to be responsible, Worldwise citizens who consider their actions through embracing sustainable travel, forming good decisions and supporting their peers. Our outdoor learning partner organisation this week believes that these traits can be developed by following their principal values: honesty, passion, dedication, diversity, risk-taking and enjoyment. These principles correlate strongly with our own College values.
Throughout the outdoor learning experience, our students in Year 4, Year 5 and Year 6 explored the environment while engaging in a range of fun activities, such as picking strawberries and making pizza with local farming ingredients. The key focus was to develop a comprehensive understanding of Shanghai's ecology and how their actions can affect the natural environment.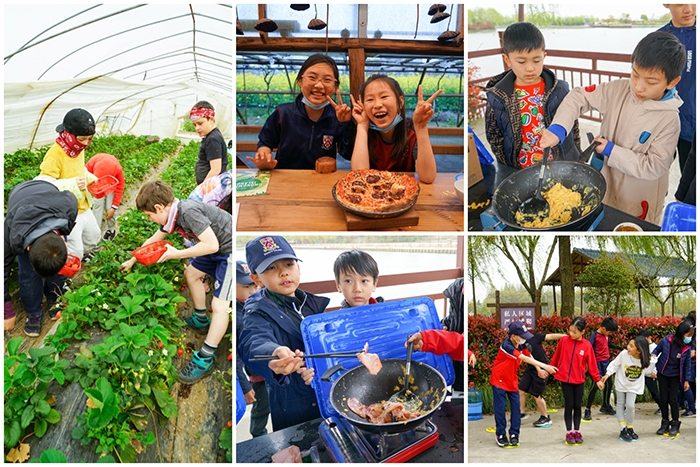 Our Junior School students were also tasked with developing their leadership, communication and interpersonal skills under challenging circumstances, while improving their understanding of team dynamics. Outdoor games in the park, kite making with natural materials and woodwork activities provided a valuable opportunity to empower our students to reflect on and utilise the learn-to-learn skills of an effective participator and team worker, as they worked together to succeed. The physical challenge involved throughout the experience, offered a rewarding challenge within a safe and controlled adventure.
It was a great pleasure to observe our children demonstrate resilience and determination, resulting in both physical and personal growth. Their tenacity to step outside of their comfort zones and break through boundaries, all while smiling, laughing and enjoying their independence, was gratifying to witness. Kudos to our Junior School students!