IGCSE High Achievement Award: What it takes to hit the top!
Recently, we were delighted to receive an email from Cambridge Assessment International Education inviting Dulwich College Shanghai Puxi to attend the Outstanding Cambridge Learner Awards ceremony for East China. The invitation was sent in recognition that one of our students, Jemima, will be awarded the High Achievement award for Mandarin as a Foreign Language.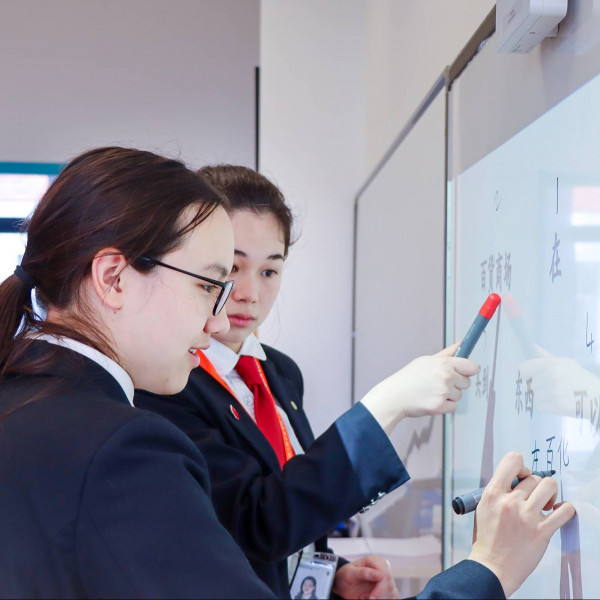 What does High Achievement Mean?
As Cambridge states:
'High Achievement' is awarded to learners who have achieved outstanding results in subjects which are not so widely taken and which, under the current criteria, would not qualify for 'Top in Country' awards. Learners who achieve the highest marks in Country in a particular subject will achieve the award'.
59 students across China received 2020 Outstanding Cambridge Learner Awards. Of these, 17 received a High Achievement award. Only one student in China received the High Achievement award for Mandarin as a Foreign Language, Dulwich College Shanghai Puxi student, Jemima. As a College we are proud that in our first ever cohort of IGCSE students, one has already received the highest marks in China for a subject.
Mr. Chen, Jemima's Mandarin teacher
How prestigious is this award?
Outstanding Cambridge Learner Awards are designed to recognise exceptional learner achievement in Cambridge examinations around the world. Jemima received the High Achievement Award. Essentially, it refers to the learner who has gained the highest standard mark in China for Mandarin Chinese as foreign language. This is a very prestigious award and recognises Jemima's hard work and talent in this subject area. This will be a strong boost for Jemima, and others who achieve the Outstanding Cambridge Learner Awards, when they apply for universities around the world.
I am extremely proud not only of Jemima, but of all our students for their exceptional performance, hard work and positive attitude. Six of my past students have achieved the Top in World award, achieving 100% in every category of this subject. Having received this High Achievement award in our first ever round of IGCSE examinations gives us a strong platform for continued success in the future.
What is your approach to teaching Mandarin that you feel makes you so successful?
Firstly, I think a good working relationship between teachers and students is the most important aspect. If students enjoy coming to class, then we have a strong foundation for growth. Secondly, I always seek to understand students' own interest so I can keep them engaged and motivated. Third, I always try to connect the lessons to real life. We use a lot of role-playing in real life scenarios to make the content useful and easy to put into practice immediately. Finally, I always urge my students to use their Mandarin as often as possible. Listen more, speak more, read more, write more; this is the only way to master a new language. I differentiate my teaching to every students' individual needs, gradually increasing the difficulty in line with their progress so they are always challenged, but never frustrated.
What advice would you give students preparing for Mandarin as a Foreign Language at IGCSE?
When I was in university, my teacher once gave us an old saying, "靡不有初,鲜克有终". It is hard to translate, but to me it means that success can be difficult to visualise. Regardless, we need to keep pushing and never give up. I hope our students can practice the school's values by aiming high and working hard to master Chinese. If we work hard, results will naturally follow. I would tell students; find and keep your interest in this language, use your Chinese in your daily life wherever possible, understand Chinese culture as a valuable window into the language, build your vocabulary daily, communicate with your teacher and complete your assignments on time.

Kelly King, Head of Senior School
For one of our Year 11 students at Dulwich College Shanghai Puxi to have achieved the highest mark in China makes me exceptionally proud. For this accolade to have been awarded in our first year of IGCSE examinations makes this an even more remarkable achievement. Every member of our community contributes towards our Senior School culture, which is shaped by our College values of aiming high and working hard, being kind and respectful, and making a difference. We are proud of these values as they act as an impetus to be our very best in all that we do. Jemima's achievement of this award exemplifies this and amplifies our desire to continue to be our very best. The culture of our Senior School is formed and influenced by the symbiotic relationship amongst staff and students within our community, which is nurtured with great care as it supports all our students in their journey to success. The knowledge we have of our students as a result of the personalised approach we adopt with relationships, our teaching and learning and assessment ensures that we continue to offer a bespoke student experience that supports students in their own journeys to success. Jemima, her many contributions to school including serving as a previous Head Student and commitments to her studies, symbolises this at work and I am delighted to be able to celebrate her success.
Jemima, Year 11
Congratulations, Jemima! How does it feel to receive this award?
I feel proud, first of all, and grateful for all of the support I have received from teachers. I was surprised when I received the award, because it didn't occur to me that I could achieve something like this. This wasn't something I was aiming for. I was just trying to do as well as I could.
What feedback have you received from teachers and classmates since receiving the award?
The feedback has been very supportive, but also grounded in reality. Clearly, I need to keep up the same level of motivation and continue working as hard as possible for the rest of my exams. Also, I need to keep practicing my Chinese and make sure I don't slip at all. During the exam, one area I fell short was in reading. I am now going to put more focus on reading Chinese on a regular basis.
What do you do to practice Chinese?
On the weekends I do horse riding. Most of the people there do not speak English, so this is a good opportunity for me to communicate in Chinese. I also listen to a lot of Chinese music. I have several apps on my phone that are all in Chinese, so I force myself to learn the characters required to use the apps. This is of course on top of the homework we receive and the recommended practice Mr Chen advises.
Is it difficult to find opportunities to speak Mandarin?
Yes, especially living in Shanghai, which is quite an international city. Most people speak some English and are keen to use it. Sometimes I try to speak to them in Chinese, but they reply to me in English so they can get some practice with a foreigner. Also, in my home everyone speaks English. It can be hard to find those opportunities. Thankfully, at Dulwich I have Mandarin lessons every day, so at least in school I can be sure I am making progress on a daily basis. I just need to keep finding opportunities outside school.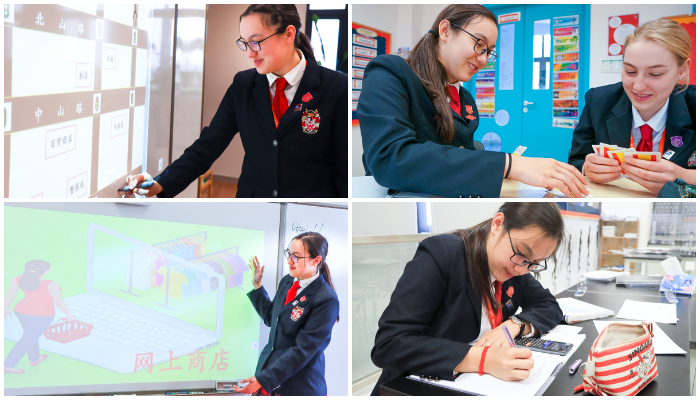 How does receiving this award motivate you going forward?
I didn't set out to achieve this award, but now I am aware that I do have these strengths, I am motivated to push myself even further in other languages as well, particularly Spanish, by applying the methods I used to improve my Mandarin.
Why is learning Mandarin important to you?
Chinese is one of the most widely spoken languages in the world. In the future, no matter what career path I take, I think being able to communicate in Mandarin will provide an added benefit. It will allow me to connect with a broader group of people.
What is it about your teacher's approach to teaching that you think sticks with you the most?
Mr. Chen uses what we are passionate about to help us learn. He'll pick topics that we find very interesting. For example, in our Chinese speaking test we had a presentation where we were required to present on a topic we chose in class. Instead of choosing something easy, he encouraged us to choose a topic that we are passionate about. It was less boring, and we were more willing to work at it. That definitely motivated me more to want to learn and improve. He also uses a wide range of materials, not just textbooks; blog posts, videos and other relevant things he has found online that are recent and topical.
Do you have some tips for students who are starting out on their IGCSE journey?
For languages, immerse yourself in the culture, read books, listen to music, and watch movies in the language. Regardless of subject, I would advise you to revise in small chunks, very often. It can be a difficult habit to get into, but it is very beneficial. Rather than revising in long sessions as you are approaching an exam, having the habit to revise regularly will reap far greater rewards. Also, find a revision method that works for you. Everyone has their own preference for how they learn. If it works for you, don't let others tell you it is wrong. Finally, make sure you have a quiet, comfortable space where you can revise in peace.
Once again, congratulations to Jemima, her teacher, Mr Chen, and all of the staff who have supported her in this journey. While Jemima may have received the award, many other students achieved extremely high grades in this round of exams, with 100% of students receiving either A or A*. Every student deserves to be commended for their hard work and effort. Amongst all of the exams, learning and revision, our Year 11 students have not forgotten that it is important to live a well-rounded life, filled with a wide range of co-curricular activities. Many played leading roles in the recent Senior School production (please see recap here) are engaged in a range of sports, service projects and musical endeavours.
If you are interested in learning more about the holistic education on offer at Dulwich College Shanghai Puxi, reach out to our admissions team to receive an individualised introduction to the College.