IGCSE Success: Reflections and Advice from our Year 12 Students
Last week, we were excited to receive news of our inaugural Year 11 cohort's IGCSE results. We are proud of the strong academic programme on offer at Dulwich College Shanghai Puxi, which effectively combines academic rigour with a truly holistic education, offering a wide range of co-curricular opportunities.
While exam results tell just one small part of a students' educational journey, it was with great pride that our students were presented with the grades they deserved, and had worked so hard for;
78% of grades achieved were A* to A.

95% of grades achieved were A* to B.

100% of grades achieved were A* to C.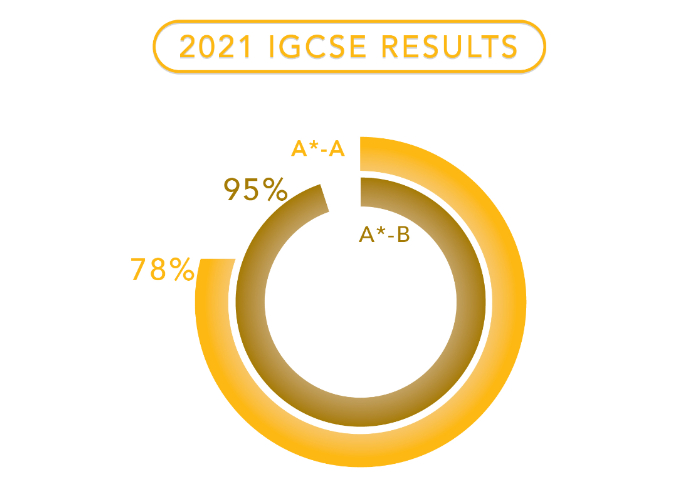 Beyond the headline results, an impressive set figures highlight just how exceptionally this cohort performed. The broad and holistic range of subjects and opportunities at Dulwich College Shanghai Puxi is enabling our students to truly follow their passions as they prepare to Graduate Worldwise;
Additional Maths
100% of students received A* or A
Extended Maths
100% of students received A* to B

Our students are talented mathematicians. Supported and encouraged by their highly experienced teachers, our students have competed at some of the highest levels globally. For example, in addition to completing his IGCSEs last year, Aidan competed in the UKMT Maths Challenge; scoring in the top 6.7% globally with full marks. As a result, Aidan was among the 600 students globally to be invited to attend the UKMT Olympiad, where he received a merit in the second round.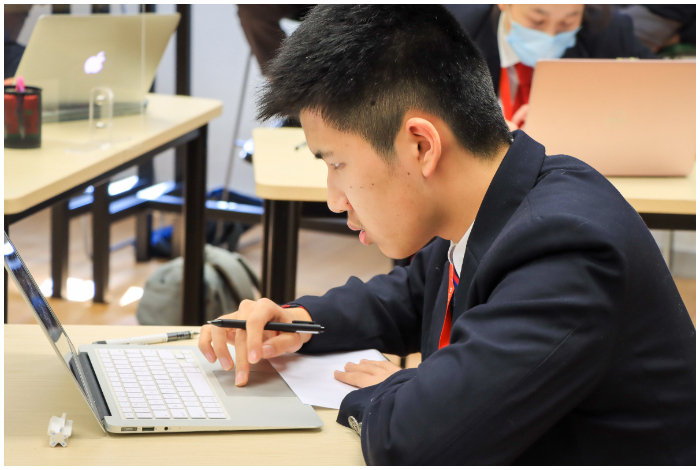 Chinese as a Native Language
100% of students received A* to B

Mandarin as a Second language
100% of students received A*

Mandarin as a Foreign Language
100% of students received A* or A

Our students Graduate Worldwise, with the skills and motivation to make a positive difference in the world. A core element of this in the 21st century is, naturally, an ability to operate cross-culturally in multiple languages. Our students work hard at languages, and their IGCSE results reflect that effort.
Jay, Year 12, reflects on his IGCSE results, highlighting his delight at achieving such strong grades in Chinese and Maths;
"I am most proud of my success with Chinese and Maths. I hit way above my target and predicted grades, which really showed my improvement after putting in so much effort. After receiving my results I was honestly shocked with how well I have done. It can be easy to obsess over small mistakes, which are actually insignificant in comparison to what you have succeeded at. These results highlight my strengths and weaknesses in the subjects I take, and they will help motivate me to retain high expectations for myself throughout the IBDP. These results also have given me a better understanding on which path I should follow moving forward, as before I was unsure to what I really wanted to do"
"I wish all the future cohorts taking the IGCSEs the best of luck, and as always I hope they will aim high and fly higher"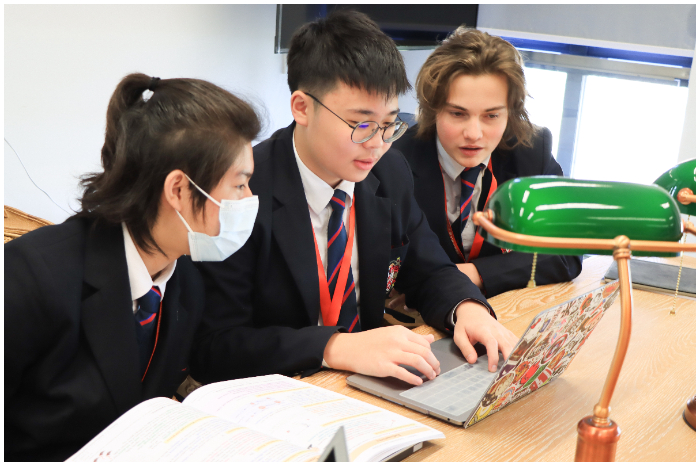 Spanish Modern Foreign Language
100% of students received A*
Jemima, Year 12, was recently awarded the Outstanding Cambridge Learner Awards High Achievement Award for Mandarin as a Foreign Language, earning the highest marks in all of Asia.
In reflection of receiving that award, Jemima set her sights on improving her Spanish. At the time, Jemima stated "I didn't set out to achieve this award, but now I am aware that I do have these strengths, I am motivated to push myself even further in other languages as well, particularly Spanish, by applying the methods I used to improve my Mandarin".
Now, having received her IGCSE results, Jemima reflected;
"I was thrilled to receive my IGCSE results. I am extremely grateful to my teachers for motivating and supporting me in my study, I definitely couldn't have done it without them. I am most proud of my Spanish result, which sets me up well for the year ahead. Spanish is one of my passions and I have set myself the challenge of studying the language at Higher Level for my IB Diploma. Although it is tempting to focus solely on the grade, acknowledging the hard work and effort is just as valuable. ¡Es igual de importante el viaje que el destino! (The journey is just as important as the destination)".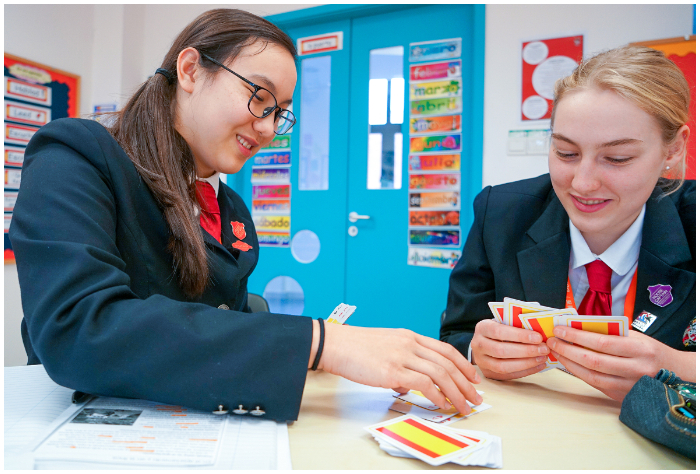 Other notable IGCSE results for the cohort are;
Physics
100% of students received A* and above
Biology
100% of students received A* and above

History
100% of students received A* and above

Music
100% of students received A*

Chemistry
100% of students received A and above

Geography
100% of students received A* to B

PE
100% of students received A* to B

Computer Science
100% of students received A* to B

Business
100% of students received A* to B

Below, other members of last year's Year 11 cohort reflect after having received their results and provide advice for those students embarking on their IGCSE journey this year.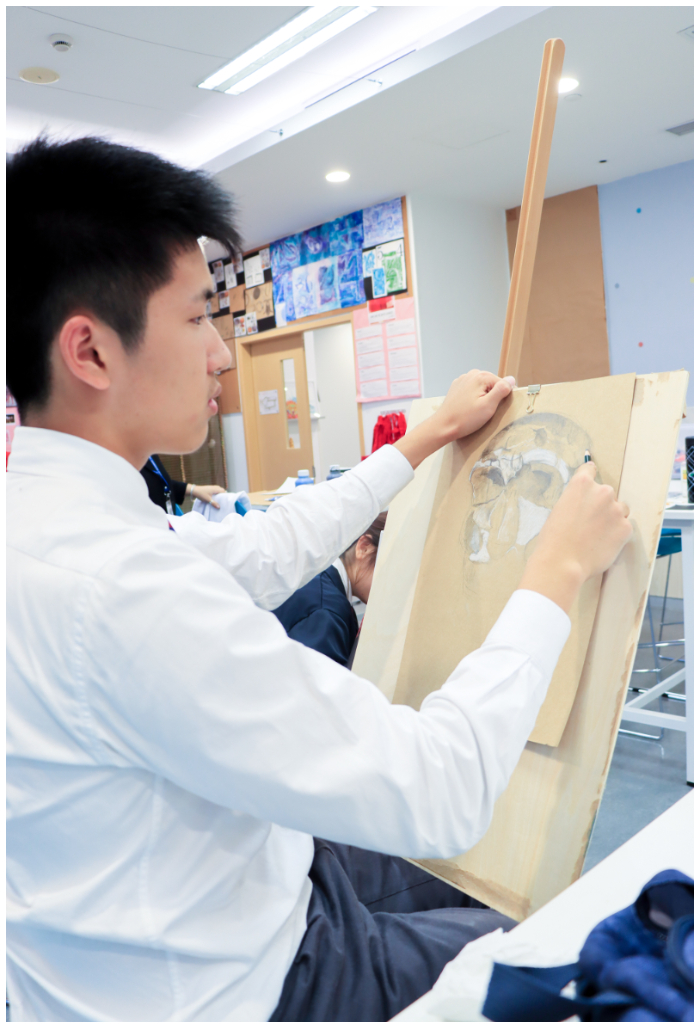 Aidan
"I'm most proud of the English results. Firstly, didn't expect an A*. Secondly, the amount of time spent on reading and doing English exercise books really helped push me the last few months. My results gave me faith to learn English as a first language, while also doing Chinese as first language, since it proves that I'm capable of getting a pretty high score in English"
"I would like to tell the students starting their IGCSE now, do not think that you're not capable of achieving a score that seems to be much higher than your current score. If you don't even think about getting the score, most likely you won't get it, but if you push yourself constantly, and progress a bit every day or every week or even every month, you will figure out that you already achieved what you thought was impossible. So, believe in yourself! You are capable of doing the impossible".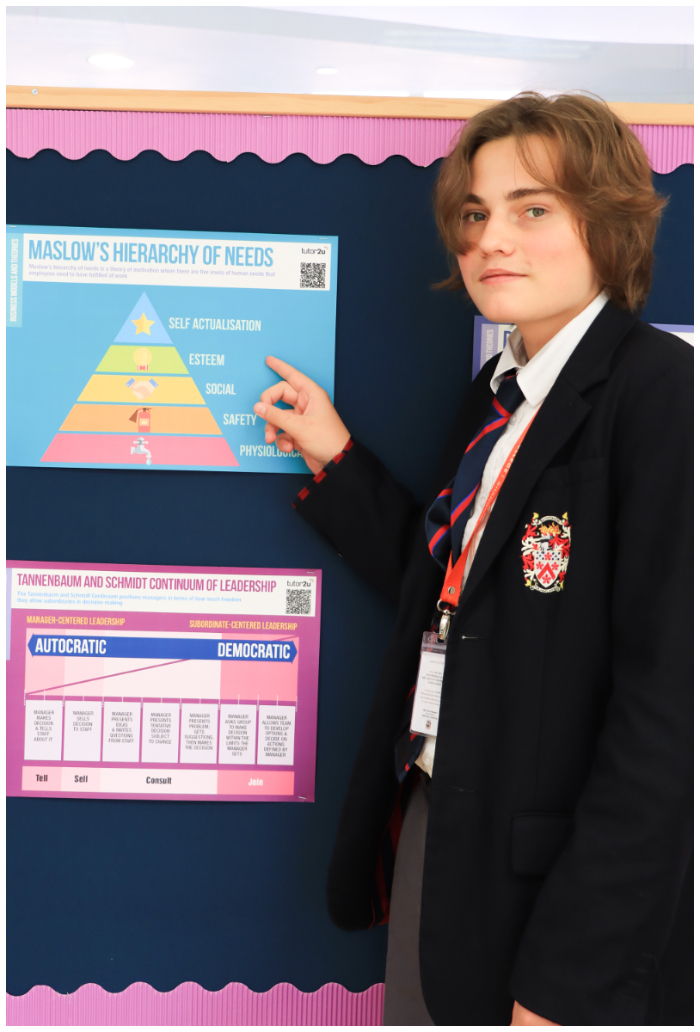 Curtis
"My thoughts after receiving my grades were blank as it was a surreal experience to finally see all my hard work paid off in the form of high grades. I am most proud of my maths, Chinese and science as I was initially struggling in these subjects. However, I took my lessons seriously and approached study with a good attitude. I changed from a struggling student to a student who achieved solid grades that allow me to continue into the IBDP. These results will inspire me as I have proven to myself and others that I am capable. These grades inspire me to push myself even more and attain higher grades than before. Don't spend your time thinking about why you are not getting the same grades as others. If you focus on yourself and improving yourself you WILL see changes in your results and in your life outside of school."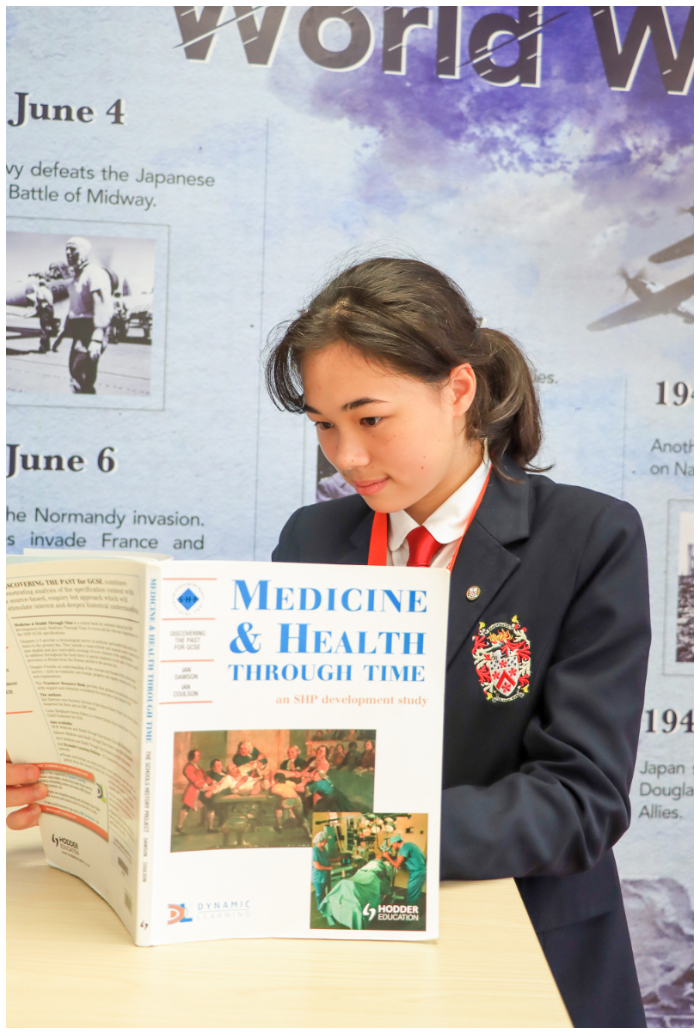 Esther
"I was very happy with my results. With COVID-19 coming in the middle of our IGCSEs, I knew I had to work a lot harder, so seeing the end results made me feel really proud of myself. I am most proud of my history as I wasn't expecting to get a grade of 9 which is above A*. Also, the A* I got in sports science was very special to me, because it enables me to start the IBDP on a really good note. Having such a high result in PE gave me the security I needed to pursue my future career in sports science."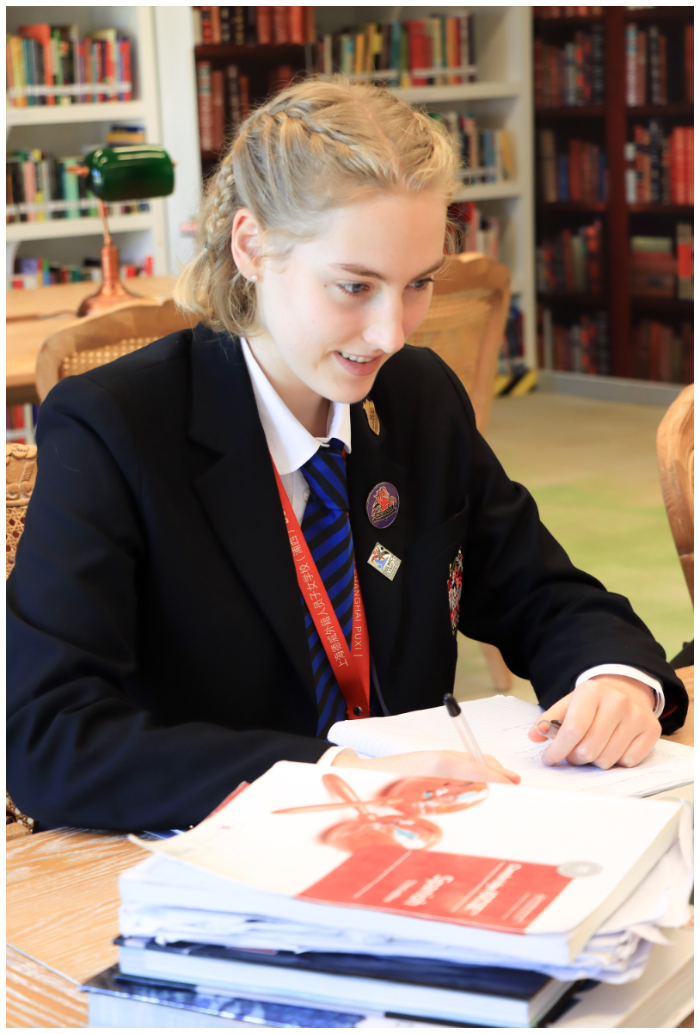 Isabel
"I believe that the success of the school's first IGCSE cohort lies in our passion and desire for change and success; as well as the hard work that we have put in throughout the last two years. I trust that this is also visible in our younger students who are also putting in the same hard work"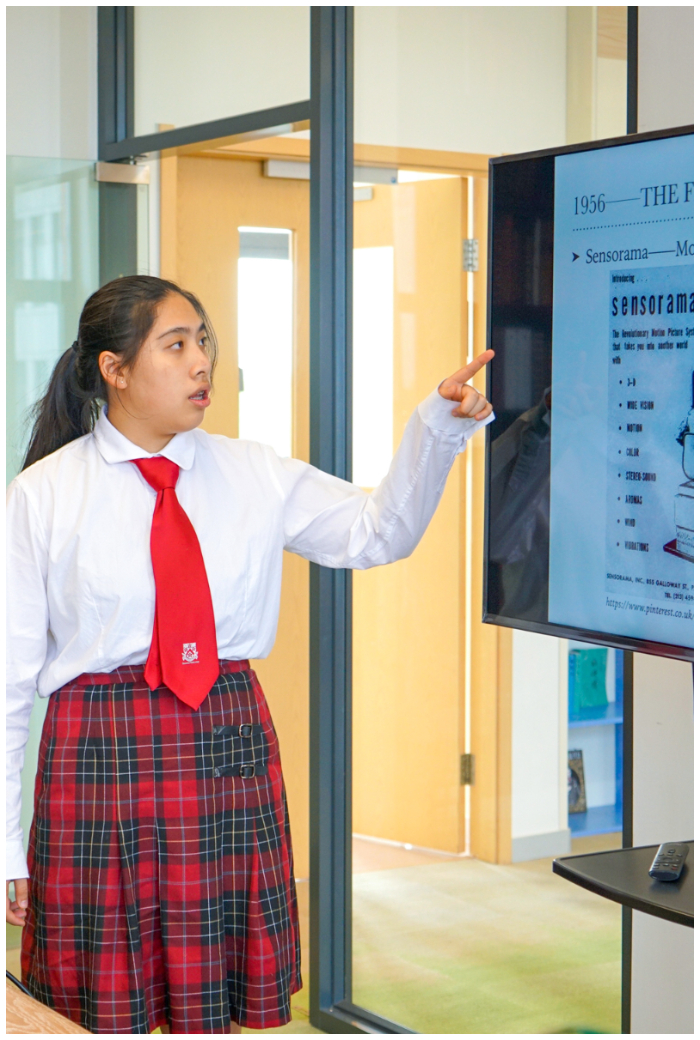 Janey
"After I received my results, I felt proud of myself with some of my scores, but also upset with some other scores. Mostly though, I was proud of myself because I have just finished two years of challenging IGCSEs and earned good results. During the next two years of studying the IBDP, I will be more hardworking on subjects that I didn't do well in IGCSE and those that are new to me in IB. I am confident that if I work hard I will keep getting good results"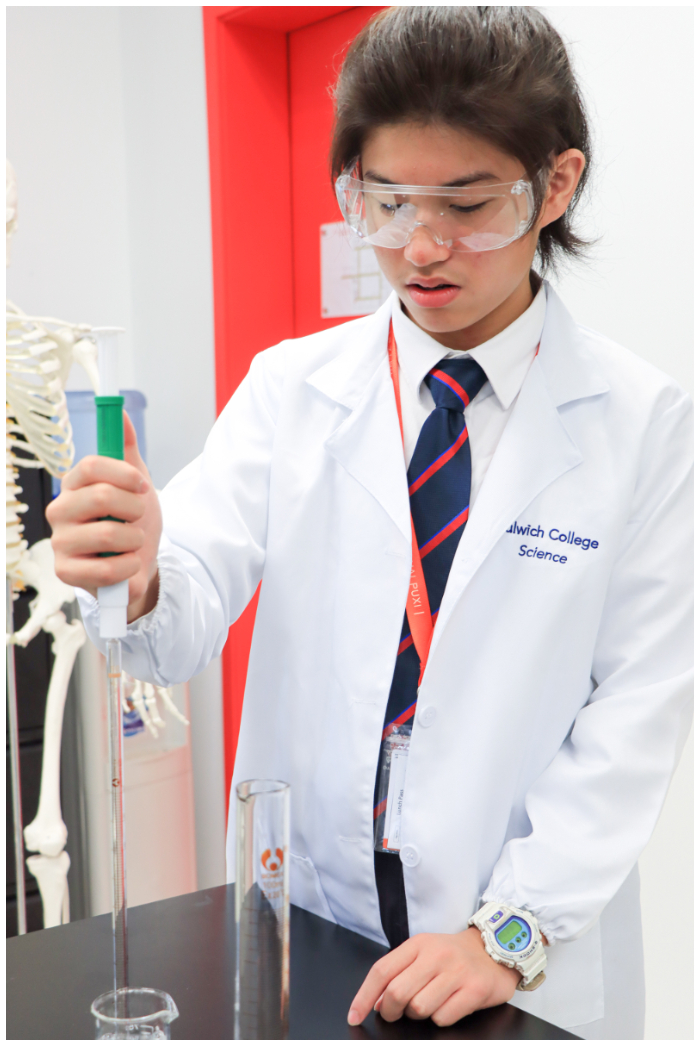 Yap
"I feel very happy about my results because all my grades turned out to be better or at the level I expected and aimed for. I feel most proud of the hard work and many hours I have put into studying over the past few years and preparing for these IGCSE exams. It gives me a feeling of accomplishment and relief that my hard work has paid off in the form of excellent results. These results will motivate me to work harder in my studies and ensure that I have the basic knowledge required to study more complex topics in IB. I would like to thank my teachers and classmates for supporting me throughout the stressful period I had to go through especially during exam period"