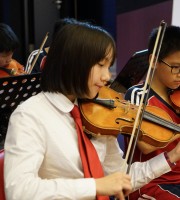 It was so challenging but I loved it. Working with professional musicians inspired me to try my hardest and I was proud to be part of the final performance. I can't wait for next year.
- Jemima, Year 8
"The philosophy of the International Schools Choral Music Society is borne from a unique approach based on collaboration, innovation, creativity and passion. At its core is the challenge to bring together many cultures with diverse backgrounds; to foster a global music experience." And this is exactly what happened to our students!!
On 31st January, five of our senior school students had the opportunity to travel to Dulwich College Suzhou to participate in the 11th Annual ISCMS Music Festival. They were joined by over 350 other musicians and singers from 26 schools from all over Asia and Australia. The festival involved 3 full days of intense rehearsals before the gala concert on Saturday 3rd February in the Grand Theatre of Culture and Arts, Suzhou. Rehearsals were led by Orchestral Director Dr Bob Hasty, Choral Director David Squire and Jazz Director Nathaniel Gao, as well as music teachers from across the different schools. The choir and orchestra had the privilege of performing two original pieces of music, one written by Composer Sam Wu which was commissioned for especially the ISCMS Festival and the other written by the Jenkins award winner Jason Ryu from Dulwich College Beijing. There were also performances from the Big Band Jazz group before the main feature piece of the evening, Orff's 'Carmina Burana'. The students returned from the festival feeling challenged, exhausted but inspired – and they can't wait to do it again next year!
Students involved: Jemima Ingram (Orchestra), Rachel Poon, Zoe Ku, Edison He, Emily Su (Choir)