Settling in the Early Years: Our Caring, Community Approach!
As we approach the end of our second week back at school for the 2021-2022 academic year, our Early Years students are finishing their settling in period, and the last days of their staggered start schedule. Founding Deputy Head of College and Head of Primary, Christine Haslett, explains our approach for ensuring that each and every child settles into our learning community smoothly.
Where I come from, teaching is known as one of the 'caring' professions. This is a point of pride amongst older generations at home, and precedes any introduction of family members. "Oh yes, my son and daughter have both taken caring professions" they will say, "both in teaching. Oh, they absolutely love it." As the daughter, niece, sister, cousin, friend and colleague of a great many teachers, this makes complete sense to me. We do important work, and our jobs must be carried out carefully, that is – full of care. You cannot educate without care. If we take a basic definition of education at face value – the process of receiving or giving systematic instruction – it bears little resemblance to the day-to-day job of an educator, in that it makes no mention of the hundreds of social transactions and interactions that take place throughout the giving and receiving. Our job is as much a social endeavour as it is a systematic function. Great education, education which transforms lives and inspires minds, education which stretches to the stratosphere well beyond the basic definition, starts with the very simple act of getting to know you.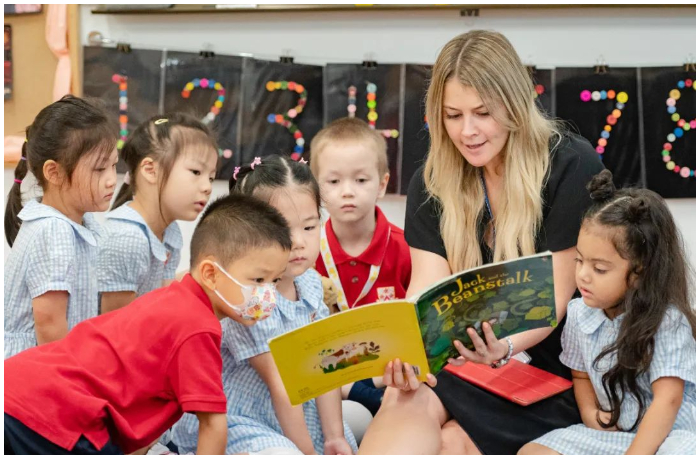 Every child is a unique child, who is constantly learning and can be resilient, capable, confident and self-assured. Children learn to be strong and independent through positive relationships, and develop well in enabling environments with teaching and support from adults who respond to their individual interests and needs, and help them to build their learning over time. Children benefit from a strong partnership between practitioners and parents and carers.
— Early Years Foundation Stage Statutory Framework, DfE 2021
Before a child joins the Early Years programme at Dulwich College Shanghai Puxi, we start to get to know your family. Prior to meeting you, we work through your application to understand your aspirations and values, and we start to absorb the unique profile of your child, and begin planning to meet your family's needs. Our team of Early Years practitioners connect with you to meet and discuss the all-important next step. We want to know everything about you! This information is crucial, as it forms our care plan for your child's settling in during their first few weeks of school, as they transition from the home into the school setting.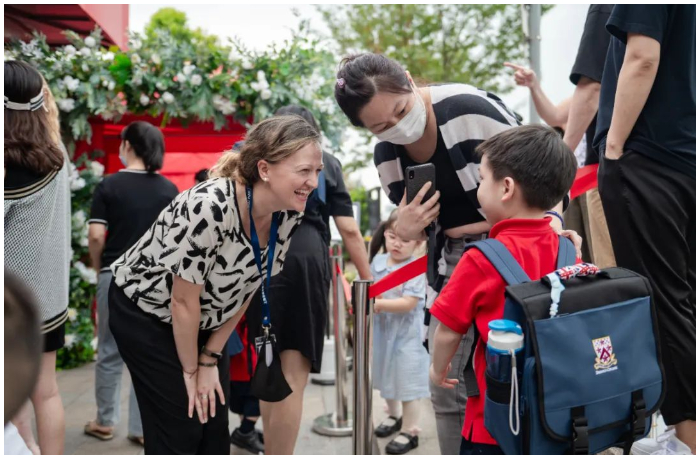 Our learning environments are designed to look like home away from home. They are beautiful, soft settings with sofas, carpets, rugs, cushions and lamps. We have kitchens for cooking, and rooms for sleeping, and we reflect the families in our community by personalising our spaces and routines. In the same way you have family photos in your home, we have pictures of our children's families and special people on the walls. We work to understand your child's toileting needs, sleep routines, eating habits and preferences, and any other additional needs they may have so that the care given between home and school is continual and undisrupted. And of course, every great home comes with a great garden, and our outdoor learning spaces are no exception to this. As our facilities have been designed and built specifically for early learners, it's no wonder our children love to spend so much time exploring outside.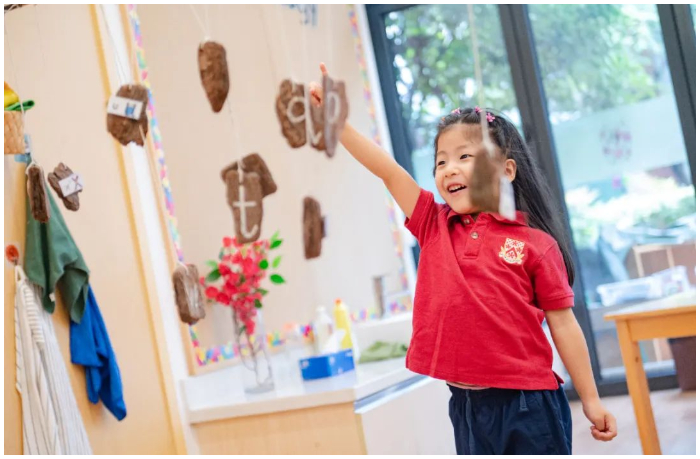 Trusting relationships are established over time, and this applies to children and adults in our community. As we get to know your child more and more over the initial weeks and months, communication is key to shaping their learning journey. Nothing beats face to face communication, and while we have restrictions on to campus due to COVID, our team are waiting with smiles outside the gates to receive your child in the morning and hand over on the afternoon so that we can share key messages. Our practitioners also regularly communicate with our families through a range of ways, including learning and care documentation apps, and weekly videos and newsletters. There are a number of opportunities throughout the school year to come into the setting and get involved through cooking, gardening and other play events. This is a great way to see your child's learning in action and ask any questions that you might have about their progress and next steps.
A truly caring approach encompasses the whole child and their family. As we take a holistic approach to education, so do we take a similar approach to the health and wellbeing of the child. Put simply, well children come from well families, and well families are supported by nurturing communities. Again, it makes sense that this is what we do, as we hope that children who join us in Toddlers at the age of 2 will stay with us for 16 years until they head off to university. The investment we make is deeply personal, as we are a community. They say it takes a village to raise a child, and we leverage the professional knowledge and expertise within our community to share with you all that we know to keep your family well along the journey. Our parent learning academy is a series of weekly workshops and seminars on key issues for families at different stages of this journey, from toilet training to transition to university. Whichever challenges you are facing, we are here to help.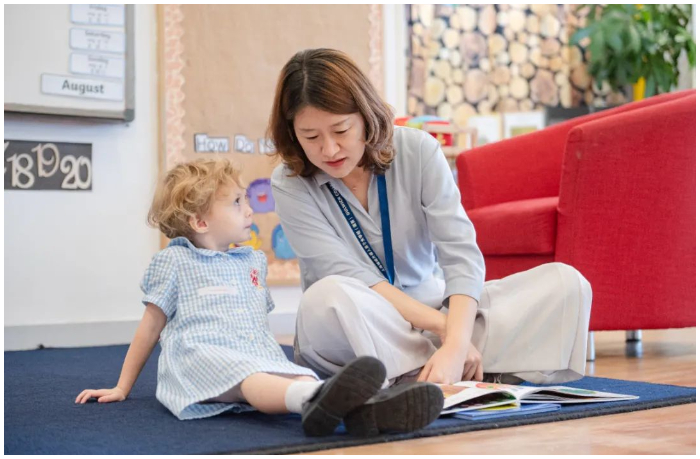 The lynchpin of our caring approach, something which is deeper than the basic definition of instruction, settles around the image of the Dulwich child. Who will this child be? As educators, this is the greatest responsibility, and the highest privilege, that we have. What happens after a child leaves your care is immeasurably influenced by the quality of that care, and type of foundational experience they had. Who they will become is the product of either careful, or careless cultivation and effort. Our Early Years practitioners are a professional body, highly qualified in the field of Early Childhood Development. They are specialists in the foundations, and believe that the development that takes place in the short window of early childhood requires careful tending to. You only get one chance. Dulwich children are curious learners. They play and explore, and are always willing to have a go. Through active learning, they push through difficulties and enjoy a deep sense of achievement. They are critical thinkers who develop their own ideas, making links between concepts, and creating strategies. They are also global citizens who in turn, learn to care about their community and what it is to serve others. They aim high, and work hard. We help them to be kind and respectful. We give them opportunities to make a difference. When they leave us at the age of 18, we hope that (as well as being pretty great people) these characteristics will steer them through any chosen career pathway. It's worth caring about, and why teaching is a great profession.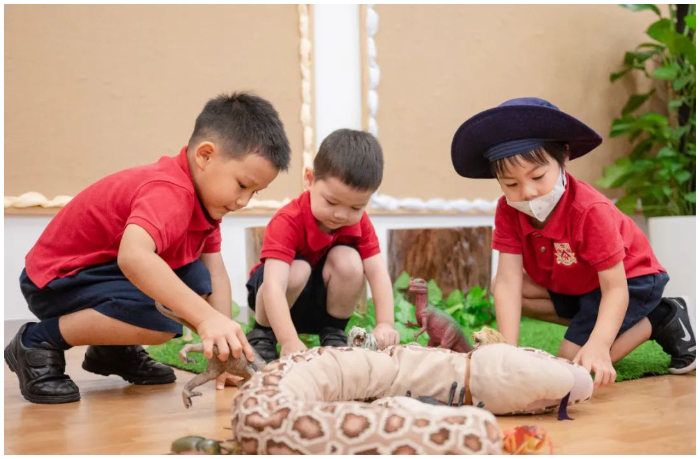 We will be increasing capacity in our Early Years in Term 2 of the 2021-2022 academic year. If you are interested in applying to our Early Years programme for your child, enquire today to learn about how to join our waiting list.