Student Leadership: A Cause for Paws – Pups Fundraising for Pups
At Dulwich College Shanghai Puxi our school values are clear;
Aim High.
Work Hard.
Be Kind and Respectful.
Make a Difference.
These values are lived each day by our staff, students and parents. In our Making a Difference series of articles, we will explore how we, as a community, strive to make the world a better place.

At Dulwich College Shanghai Puxi we encourage students to take initiative, to develop their leadership skills and pursue causes that are important to them. This can take many forms. In the following article, Year 7 student, Leona, explains the 'A Cause for Paws' initiative that arose out of their Wellbeing lesson's Service-Learning topic.
This year, a group of students decided to create a bake sale to raise money for a local charity supporting animal adoption. We called this project "A Cause for Paws". We decided to do this event and raise the money for this charity because we all care deeply for the stray animals that are homeless and aren't properly cared for.
This all started from our Wellbeing sessions at school. We started brainstorming fundraising ideas for the community around us during our topic on "Service Learning". A few people from Year 7A thought that stray animals are a growing problem in society. Year 7B had the same idea. After a few lessons, we all met up and brainstormed all our fundraising ideas and got to work. Half of the team spent the rest of our lessons making posters, finding a suitable charity and contacting them. The other half of the team made a menu and got baking. For our bake sale we sold chocolate and vanilla cupcakes, butter cookies and hot chocolate.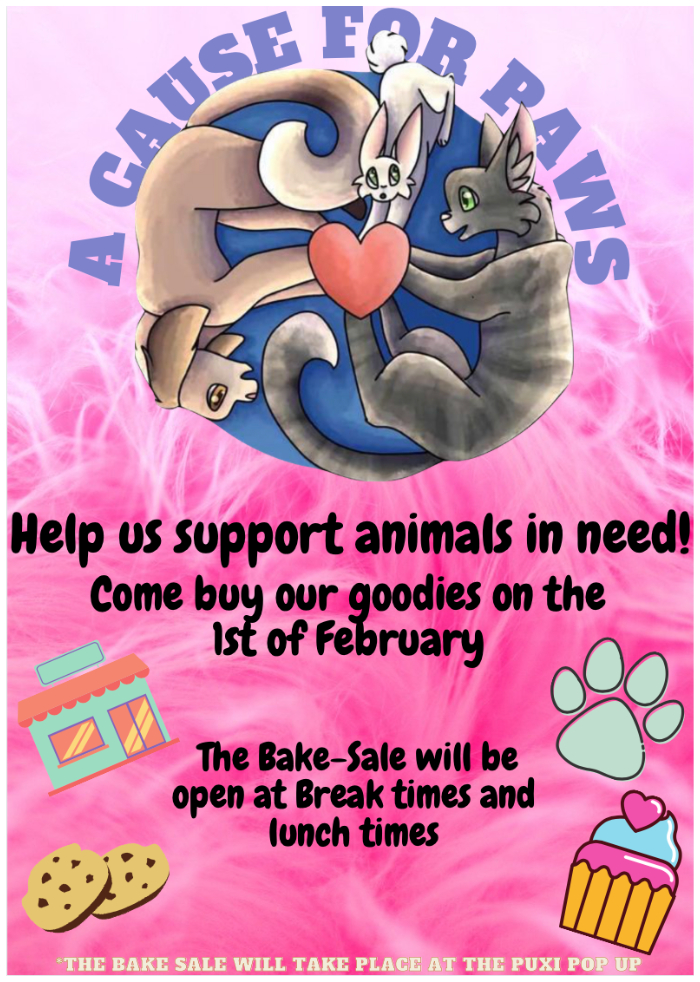 After several weeks of hard work, the day of the bake sale finally arrived. We all came in early to set up our stall at the Puxi Pop-Up Shop and brought all the baked goods we had baked the day before down from the kitchen. In the lead up to the event we had emailed the teachers that were teaching us before our break times and lunch times, asking permission for them to let us out early so we could be at the stall on time. Thankfully our teachers all supported our efforts and allowed us to cover the topics in time to be allowed out of class for setup.

The actual bake sale was really stressful at first, but with the help of the team and some friends, we ended up making 2,450RMB!
Overall, I think this event was really successful and we all did very well.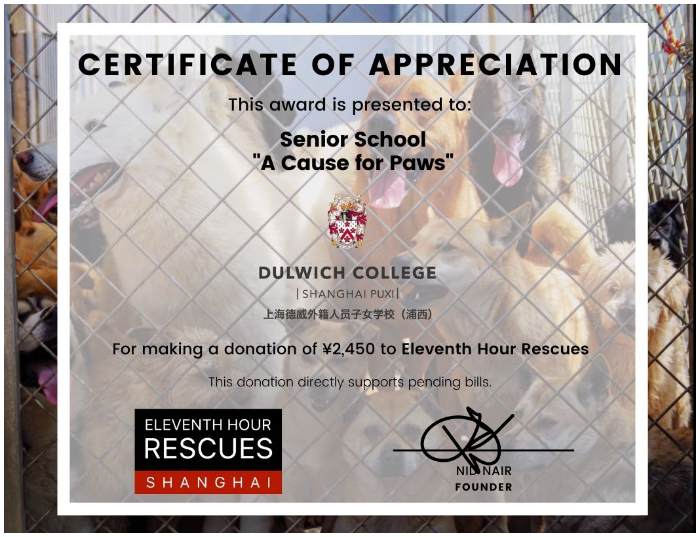 The funds raised from this bake sale were donated to the An'an Veterinarian, in support of Eleventh Hour Rescues Shanghai. Several of the children from Dulwich College Shanghai Puxi have rescued dogs through Eleventh Hour Rescues, and the students involved in 'A Cause for Paws' feel that their values and ethical approach to animal rescue aligns with the College values.