The Student Journey
The student journey is unique for every family and individual, which is why Wellbeing and Guidance at Dulwich College International is at the core of everything we do, and is crucial to supporting a robust university counselling programme. We believe that student success inside and outside of the classroom is rooted in a student's ability to exhibit resilience and flexibility in an ever-changing world. We offer a holistic, student-centered approach to guidance and wellbeing to all students from DUCKS throughout Senior School. All students engage in the Dulwich College Success Plan, a developmentally appropriate, personal enrichment curriculum that encompasses all areas of student development and self-discovery. We provide students with countless opportunities for academic, extracurricular and personal growth and reflection, resulting in the creation of personal learner profiles that are updated and reviewed on a regular basis, providing insightful understanding of every student at every level. Such insight provides our educators with pertinent information needed to support students in setting goals and making sound decisions throughout their journeys.
When students are introduced to our unique university and careers counselling programme, insights and unique information from students' personal learner profiles is used to support students in continued self-understanding in Year 7 before shifting focus to university and career research in Year 10. Therein, students are guided in understanding popular university systems throughout the world, in the creation of personal essays and resumes and through the application process. Additionally, students are taught how to evaluate and research a university's ethos, values, curriculum and faculty to demonstrate informed interest and ensure best fit for our students and families. By building a philosophy of self-confidence and self-awareness that starts early on, our progamme ensures students are in a position to realise well-informed dreams and leave Dulwich university-ready and worldwise.
Our students not only receive personalised guidance from university counsellors at their school, but also benefit from support that comes from having experienced counsellors with diverse backgrounds and area-specialties sharing best practice throughout the Dulwich College International network of schools. Many of our counsellors serve on the International ACAC (Association for College Admission Counseling), working on committees alongside university representatives and admissions officers. Through this our university counsellors are able to leverage the Dulwich name and network to lead global sessions for professional learning and development around the world.
#BestFit
Though we no doubt applaud our graduating students each year for receiving offers from top universities, colleges and specialty programmes across the world, we place more importance on the fact that through our unique and extensive University Counselling programme, our students are able to attend the colleges and universities that best fit their interests and goals, irrespective of rankings.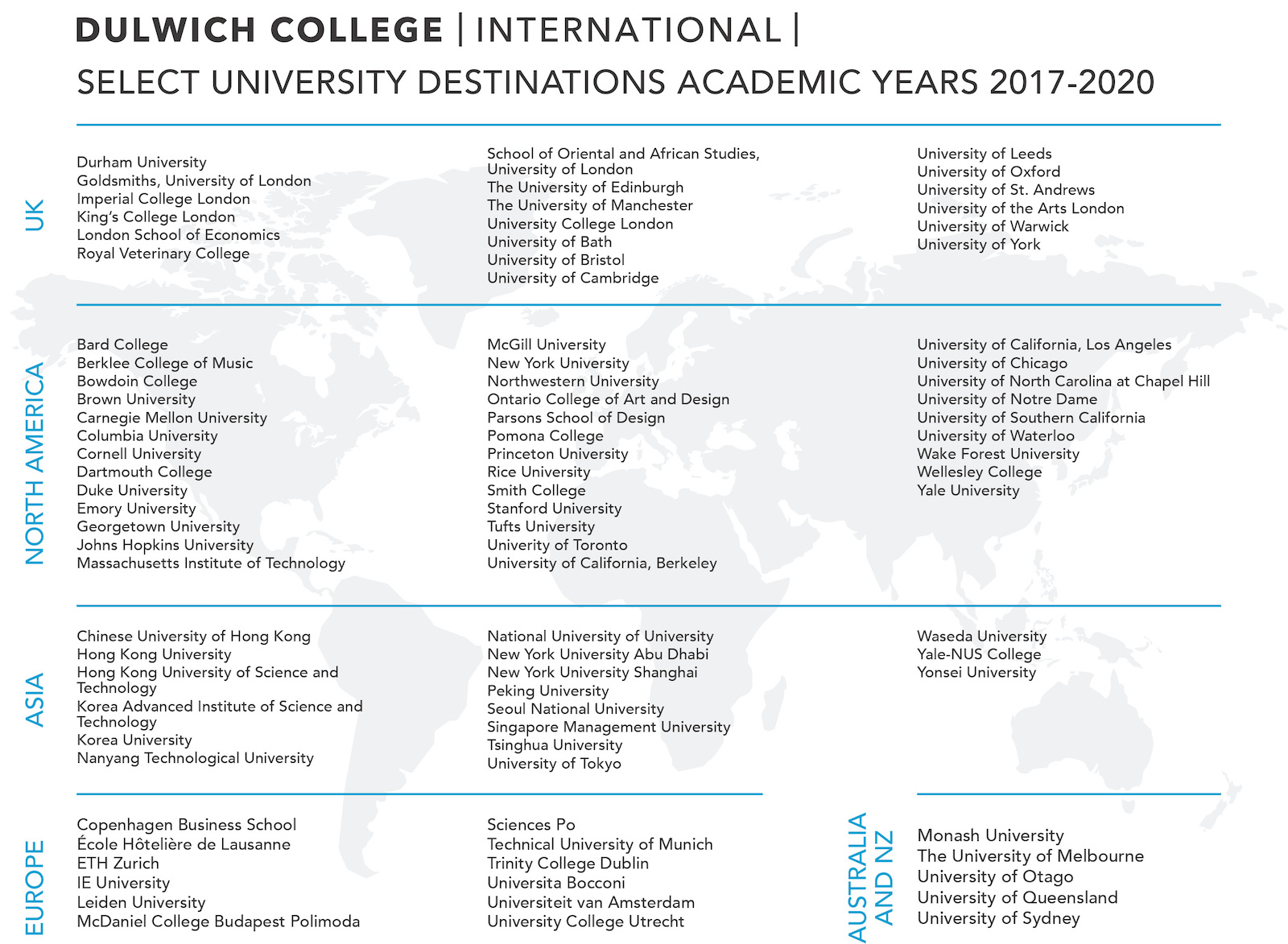 School Profile
Download All
For University Representatives
Download All