House Systems: Are they more than pomp and ceremony?
Early this month we held our annual Primary House Sorting Ceremony and Senior School House Banquet. At these events, all new students and staff were "sorted" into their Houses. Once sorted into a House, students and staff remain with their House for the remainder of their time at the College. But what are Houses and why are they important? Are they simply a tradition that has carried down over the years with little substance more than pomp and ceremony, or are they a feature of a school that has genuine benefits for the student's wellbeing?
Houses are by no means unique to Dulwich College. In fact, they are a quintessential element of many British independent schools. The practice of organising students into sub-units called Houses, whilst originating in England, has since spread to schools, College and universities around the world. The term "House" was used because, originally, they denoted the actual residential houses that students lived in while boarding at their school. The term is now not limited to those schools with residential programmes and is used by many schools to divide one large body of students into smaller teams, or communities.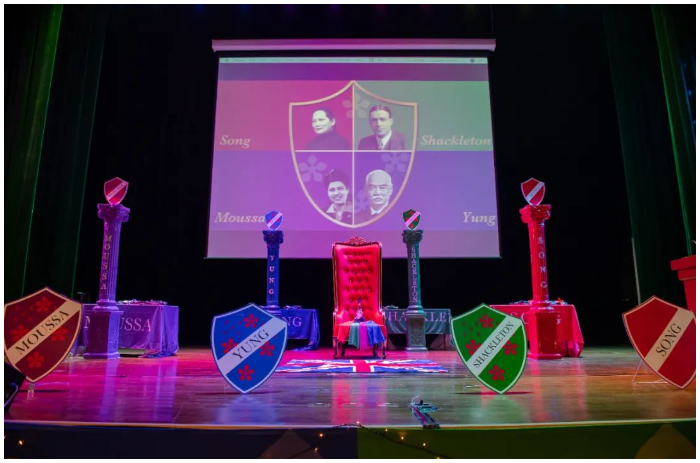 Houses at Dulwich College
——
Houses within a school may be named after significant alumni, former headmasters, notable people of honour, or even animals, colours and concepts. The Houses at Dulwich College in London were introduced in 1919 and were named after six British historical figures who had significant contributions to the nation.
Drake
Named after Sir Francis Drake (1540-1595)
Grenville
Named after Sir Richard Grenville (1542-1591)
Marlowe
Named after Christopher Marlowe (1564-1593)
Raleigh
Named after Sir Walter Raleigh (1552-1618)
Sidney
Named after Sir Philip Sidney (1554-1586)
Spenser
Named after Edmund Spenser (1552-1599)
Following growth of the College, in 1982 two more Houses were added;
Howard
Named after Charles Howard, 1st Earl of Nottingham (1536-1624)
Jonson
Named after Ben Jonson (1572-1637)
(A Short History - Day Houses - Dulwich College, n.d.)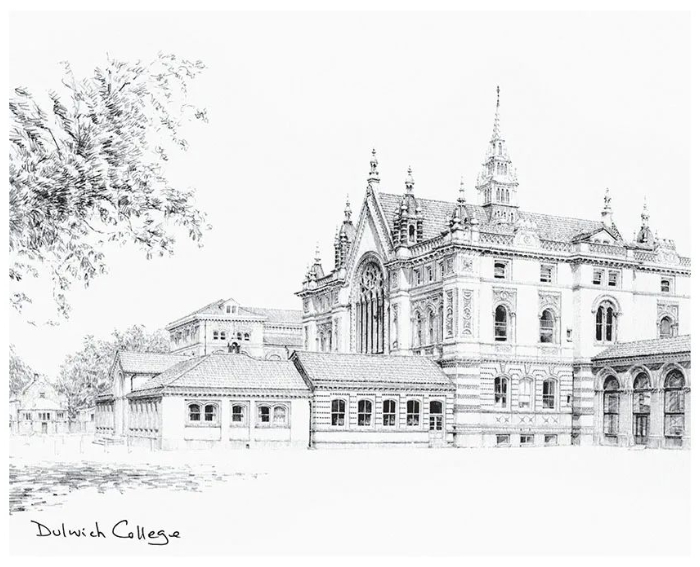 Representing pirates turned naval legends, playrights and poets, merchants and mercenaries, the Houses at Dulwich College in London reflect the rich heritage of the 401-year -old College, steeped in British history.
Traditions are important. They create consistent behaviours which form cultures, and they remind us to heed the lessons of those who have come before us. Traditions are a large part of House systems. As a Dulwich College, it is important that we honour these traditions in our own way, and the House system acts as one element of that.
All Houses are Built on Strong Foundations
——
At Dulwich College Shanghai Puxi, the Houses are named after those people whose character traits reflect our values of Aiming High, Working Hard, Being Kind and Respectful, and Making a Difference. Cognisant of our context, two of our Houses are named after important Chinese cultural figures, Yung Wing and Soong Qingling. Reflecting our British heritage, Shackleton House is named after the great British Antarctic explorer and Dulwich College alumni, Ernest Shackleton. Reflecting our commitment to diversity, equity and inclusion, Moussa House is named after pioneering female scientist and advocate for peace, Sameera Moussa.
To read more about the Houses at Dulwich College Shanghai Puxi, see the following articles written by previous Marketing and Communications Inter, Vaishu;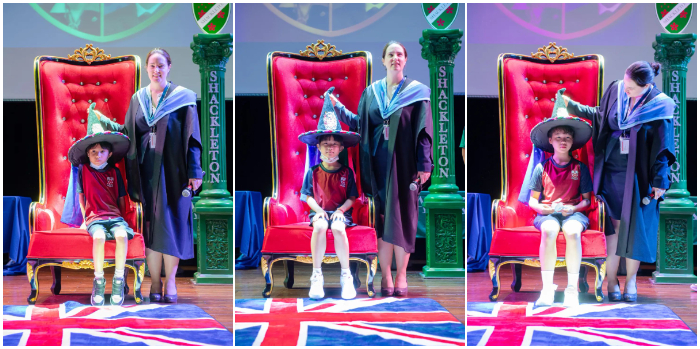 Houses are Like a Family
——
Beyond traditions, benefits to student wellbeing are a major reason why House systems are seen as a crucial element of many schools and colleges around the world. In boarding schools, with students being away from their parents for long periods of time, Houses are used as an important conduit for pastoral care. In day schools, Houses foster a sense of community among students across the year levels. As they replicate a traditional family structure, the relationships developed within a House help boost student self-belief and sense of belonging (Coughlan, 2015) resulting in increased levels of wellbeing. One clear example of this is in New Zealand, where many House systems are designed to reflect "the Maori concept of Whanau [which] emphasises the family values which are used to underpin the model and the importance of positive relationships" (Coughlan, 2015, p.1).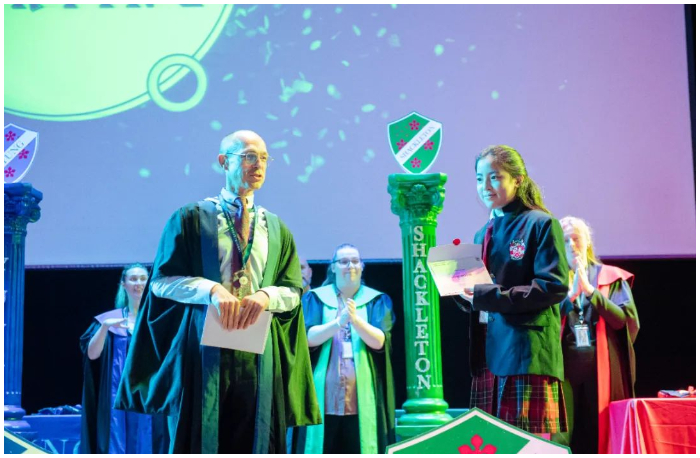 Houses Fire Up the Competitive Spirit
——
Each House at Dulwich College Shanghai Puxi includes students from Year 1 through to Year 13. Throughout the academic year students come together in their Houses to compete in events, activities, games and sporting competitions. Students work together to earn House points, with the ultimate goal of winning the annual House Cup trophy. This element of friendly competition engages the students and encourages them to participate fully. It has been shown that "the sense of belonging provided by House membership, and the opportunity to enter into competitions with your peers can have numerous academic benefits as well as the social-emotional" (Lee, 2014, cited in Johnston, 202). At Dulwich College Shanghai Puxi we have witnessed these benefits first-hand. Our student body has fully embraced the culture, taking pride in their Houses and striving to achieve for their collective benefit. When students apply for roles such as House Captain or Head Student, they regularly cite a desire to make their House mates proud, and to assist others in succeeding.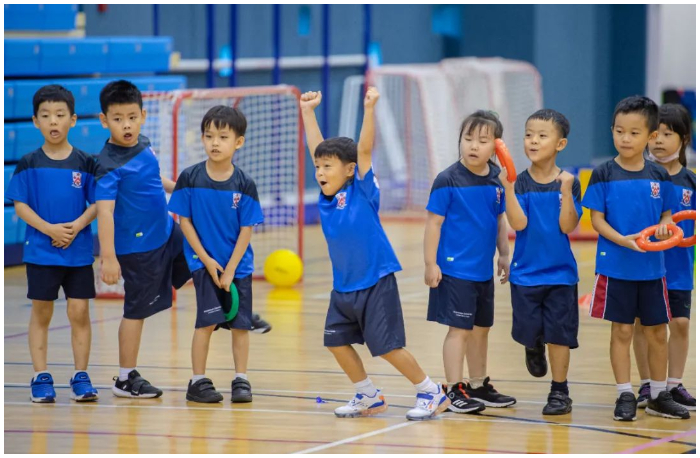 Looking Up and Looking Down
——
Younger students are given regular opportunities to see positive behaviour being modelled by their older House mates. They see peer role-models, and learn what it means to gain maturity, take on responsibility, act as a leader and support your friends. These important role-model relationships help the younger students grow and develop healthy attitudes to learning and competing. They see sportsmanship, respect, friendly competition, resilience, learning from mistakes, and celebrating success.
Conversely, older students are provided with opportunities to demonstrate their maturity, to learn how to care for younger students, be role-models, and teach their younger Housemates the College Values. Older students take pride in modelling positive behaviours and helping their younger peers to be successful. The value of these positive role-model relationships, that are facilitated by the House system, cannot be overstated.
One publication explained the benefits to House Systems and the vertical integration they create;
"There is something quite magical about it; pupils of all ages come together, kindred in their desire for their house to be the best, for their house to win the numerous competitions and, of course, the overall House Cup. Pupils from all year groups, with the natural spread of talents, abilities, ages and, in co-ed schools, genders, all come together, united in their quest. This camaraderie and solidarity is second to none and the benefits of this vertical interaction, where the young look up to the elder and where the elder look out for and support the younger, are profound. When pupils have a vested interest in one another, a culture of kindliness pervades and becomes the norm. We are thus creating citizens for the future – tolerant and helpful, modest but ambitious" (Tongue, 2016).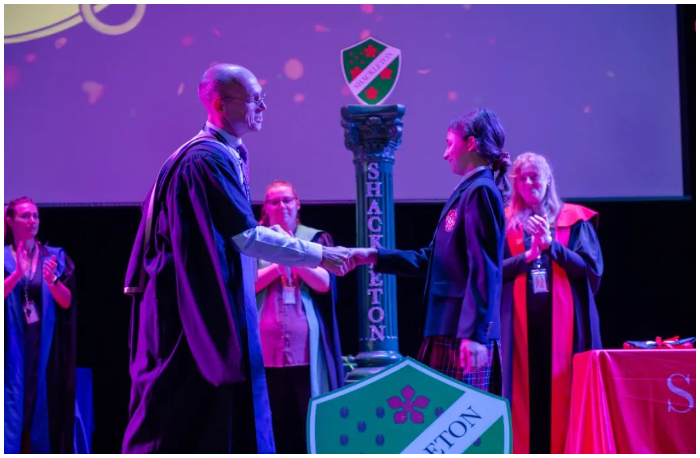 House systems help with student transitions, especially from Junior to Senior School (Coughlan, 2015). Having existing peer relationships between students of different year groups makes the process of moving up the school less daunting. With existing friends in the Senior School, those students transitioning feel more confident about the next stage in their education. This has been described as "[Removing] the fear of them being a little fish in a big pool" (Garner, 2011). We see this each year, with familiar faces in the Senior School reaching out to their younger peers to support them as they move up from Primary School. As a result, our Year 6 students approach Senior School with more confidence, and require less social and emotional support at this time.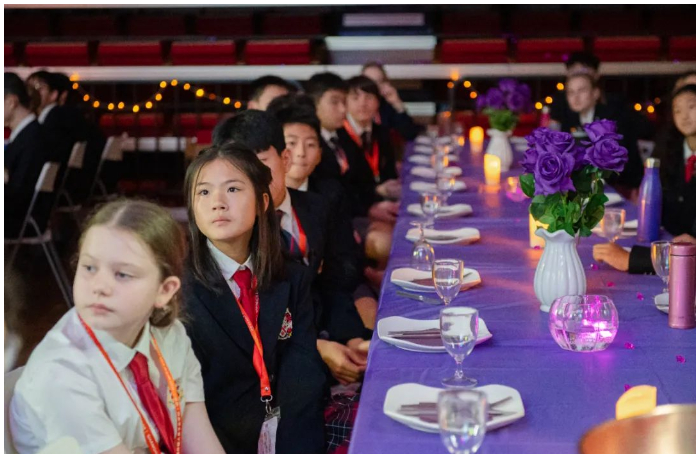 We know that leadership is a core 21st century skill that our students will need as they Graduate Worldwise, and pursue higher education and their careers. The House system provides numerous opportunities for students to learn these leadership skills; whether it's being the House Captain for the year, or leading your House in a game, sporting match or competitive activity. Throughout the year, the House system is a constant reminder to students that they are working towards something bigger than just themselves, their immediate friendship groups or classmates. They have a responsibility to step up and be leaders in whatever field it is they are passionate about, to help their House earn points towards the House Cup.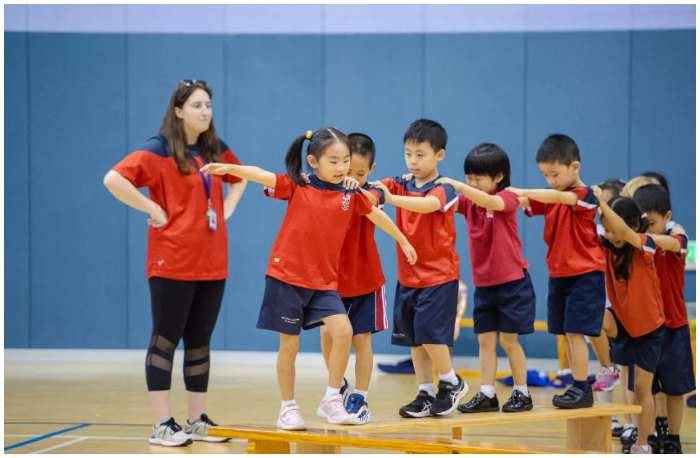 Collaboration and Team Work
——
Learning to collaborate with diverse teams of people is yet another 21st century skill that we know our students will require as they enter the workforce. Whether they are leading a team or playing their own critical role as a team member, the ability to hear a range of perspectives, listen to your peers, solve problems collaboratively and form team bonds is one that will serve our students well for life. The House system provides ample opportunity for every student to stretch their collaboration muscles. Whether they are celebrating success together or comforting one-another in a sporting defeat, we want our students to be team players, and the House system facilitates this.
"One of the main strengths of the House system is giving students of all ages the opportunity to work together, creating a truly cohesive environment and ensuring that age is not a barrier to friendship and collaboration" (Johnston, 2020)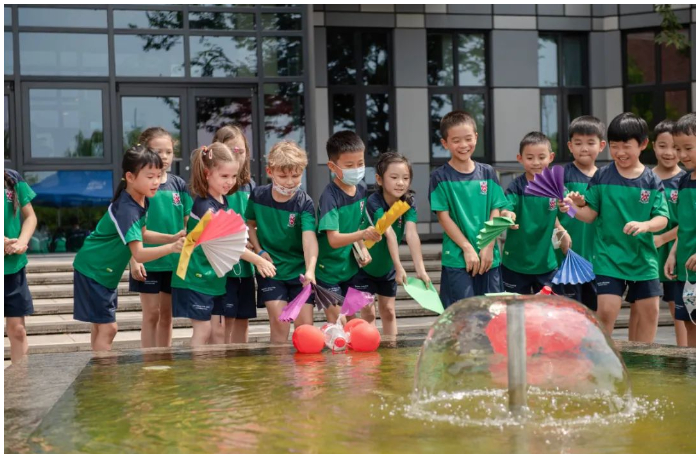 All Houses have Foundations, but look inside for the true strength
——
So, while the obvious conclusion may be that the House system is simply a ceremonial role resembling something out of Harry Potter, it is important to remember that House systems play a crucial role in helping ensure student wellbeing, and in developing those 21st century skills that will help our students become successful global citizens who Graduate Worldwise. While we look to the past to be inspired by our foundations - the great leaders such as Shackleton, Yung, Song and Moussa - the true inspiration comes from our Housemates, whether they are younger than us, looking up, or older than us, providing a supportive hand as a role-model.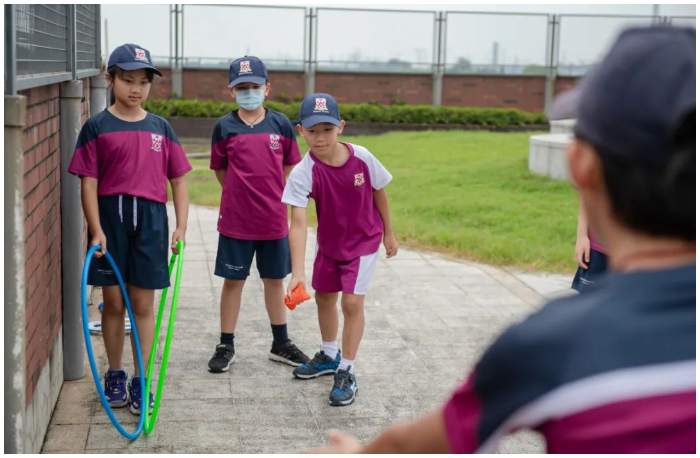 So, ask your child, "What House are you in?" and remember that as a parent, you are a member of the House too.
References
Coughlan, N., 2015. WHANAU (HOUSE) STRUCTURES BEING USED IN SECONDARY SCHOOLS TO ENHANCE STUDENT ACHIEVEMENT. [online] Available at: [Accessed 31 August 2021].
Dulwich.org.uk. n.d. A Short History - Day Houses - Dulwich College. [online] Available at: [Accessed 29 August 2021].
Garner, R., 2011. State secondaries urged to bring back the house system. [online] The Independent. Available at: [Accessed 30 August 2021].
Johnston, H., 2020. What role does the House system play in a modern school?. [online] Whs-blogs.co.uk. Available at: [Accessed 30 August 2021].
Lee, J., 2013. The Relationship Between Student Engagement and Academic Performance: Is It a Myth or Reality?. The Journal of Educational Research, 107(3), pp.177-185.
Tongue, D., 2016. The House System: a typically British educational institution. | Editorial | Relocate magazine. [online] Relocatemagazine.com. Available at: [Accessed 1 September 2021].