How We Develop a Lifelong Love of Swimming in the Early Years
"I'm really excited to talk to you about our fantastic swimming programme here, specifically how it pertains to our Early Years students. We actually have two swimming pools on campus, the 50-meter pool behind me and we've also got a shallower training pool where our younger students learn the confidence to progress through the swimming curriculum.

Our swimming programme is a key feature of our Early Years programme. We strongly believe that teaching our younger students the skills to become strong and passionate swimmers will assist their overall development and bring benefits, not only physically but also socially and academically.
Every one of our Early Years students has swimming lessons each week from Toddler, where our students are two years old, through to Year 2. From there, the swimming programme is built into our regular PE curriculum and students have ample opportunity to continue their passion for swimming throughout their school life. We hope that by instilling our students with a love of aquatics, they'll go on to participate in a wide range of water sports as they grow.
To quote Benjamin Franklin,
"Tell me and I forget, teach me and I may remember, involve me and I learn."
Games-Based Approach
————
In the Early Years we involve our students through a games-based approach to swimming instruction based on the Swim England framework. This means we use games and activities to teach the skills that students need to progress through the curriculum. By using games, students enjoy their swimming lessons and love coming to class to pick up new skills. This is quite different to a traditional approach that teaches discrete swimming skills in a regimented process, where some students lose their passion and try to avoid classes.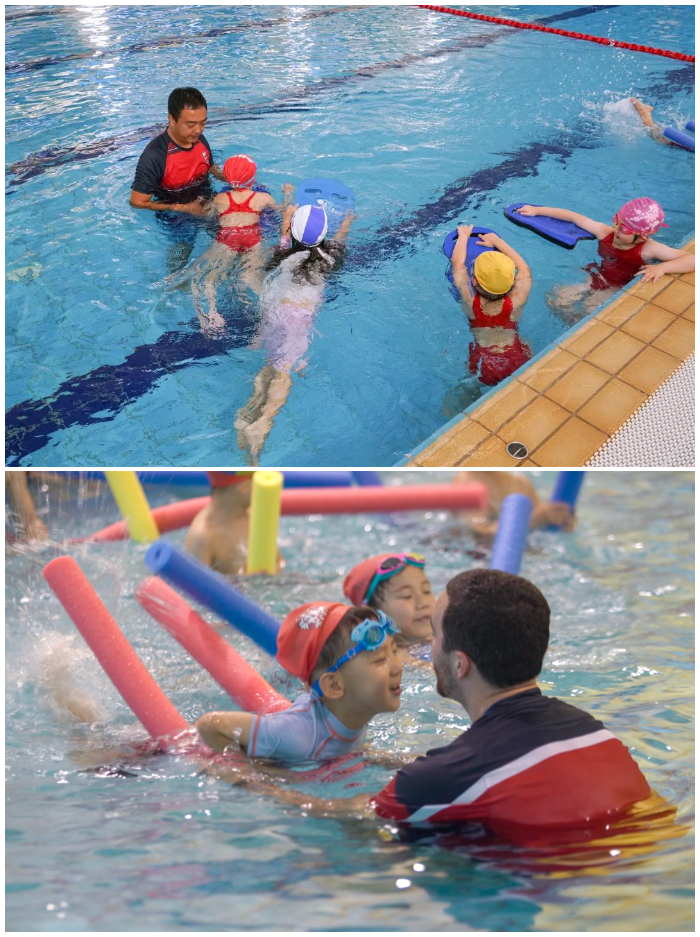 Assessment and Tracking
————
Because we teach using a games-based approach does not mean we don't track progress. We use a rigorous and proven set of standards that measure every student's swimming level and ensure they're learning skills required to move through the curriculum. We track students' progress in each lesson and assess based on the Learn to Swim levels.
In the Early Years, in Toddler to Reception, we follow the preschool framework from Swim England. The Awards are, I CAN;
"…enter the water safely
…jump in
…float on my front
…float on my back
…roll over
…blow bubbles
…swim
…enter, turn, return and
…exit safely"
In Year 1 and 2, we also have a game-based approach which develops the love of sport and lifelong learners. We have assessment at the start and the end of the term in line with Swim England standards for each stroke. They develop aquatic skills such as diving, treading water, rotation, water polo and team games. The Learn to Swim Stage 1-7 Awards are divided into progressive stages. They make up the core national syllabus of learning to swim for primary school aged children. They are designed to reward your child for their development of the essential aquatic skills they need to be confident, competent, and safe in the water.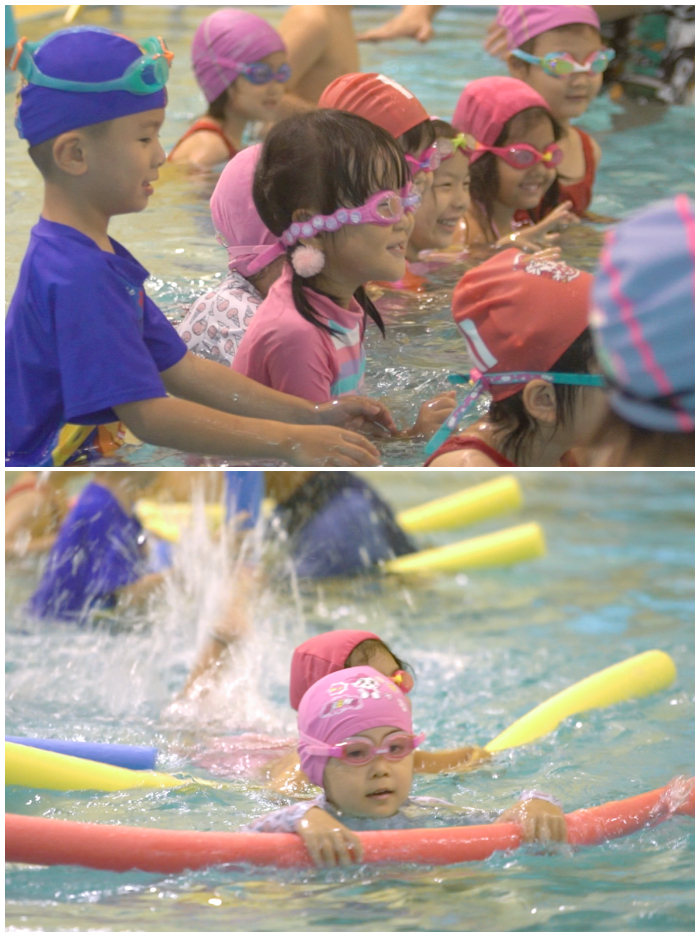 Why a Games-Based Approach?
————
Why do we follow the games-based approach of the Swim England framework? To put it simply, it's because we can clearly see the many benefits of this approach for our students. They quickly become strong confident swimmers who enjoy aquatics and can compete at a high level.
They are also happy, confident, independent learners. For example, our students gain water confidence much quicker than if we were to take a more formal, rigid approach. When students know they are coming to the swimming pool to have fun and enjoy themselves, they are much more likely to forget their nerves and simply get involved. Before they know it, they're swimming independently.
This also results in high engagement rates. In some schools, swimming lessons are cited as many children's least favorite subject. This is not because they don't enjoy swimming,but because the lessons are not being delivered in a way that is fun and positive. Our engagement rates are extremely high, with almost every single student participating in swimming each week.
Our students are happy! Not only do they leave the pool feeling well exercised and satisfied that they have learned a key skill.They leave happy and ready to move on to the rest of their school day. This results in higher levels of wellbeing in our students; something we value highly. So, in short, we know that a games-based approach brings many benefits to our students, whether it's skills development, confidence in the water, engagement rates or wellbeing.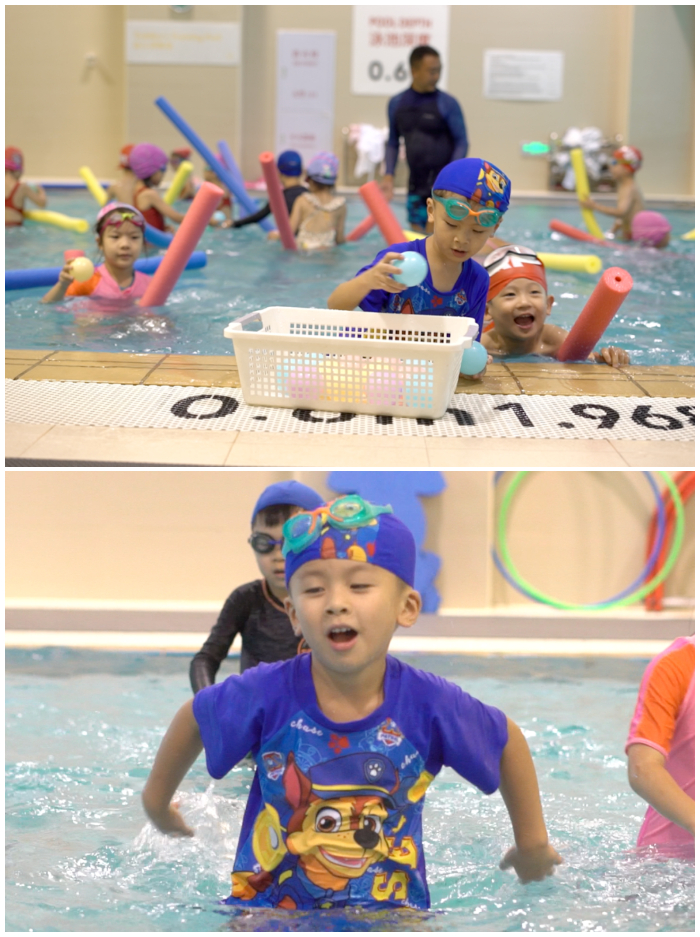 Safety First!
————
Let's take a moment to talk about safety, because our students' safety and wellbeing is always our number one priority. We take the utmost care to ensure the safety of our students when they engage in our swim programme. We have a staff of qualified lifeguards at the pool that work full time, as well as highly qualified teachers and low student teacher ratios.
Our pool facilities are second to none. We control and regularly monitor the temperature of the water in the pool and also the air within the pool environment. We maintain a temperature of 30 degrees and above for our beginner pool, and 29 degrees for our large pool. The air temperature is always maintained at least one degree above the water temperature. Our students don't get cold when swimming or when they're getting changed.
We do know that some exposures to change in temperatures will boost the immune system though, and it will also provide overall health benefits that far outweigh any risks. But we ensure that temperatures that in our pool are comfortable all year round.
On this, the health benefits to swimming are well documented. Swimming helps you to remain fit and healthy with a strong immune system. Swimming is an excellent cardiovascular workout that promotes heart and lung health, improves strength and flexibility. We are confident that our swimming programme not only follows the highest standards and safety and professionalism, but the benefits to our students' health are overwhelming.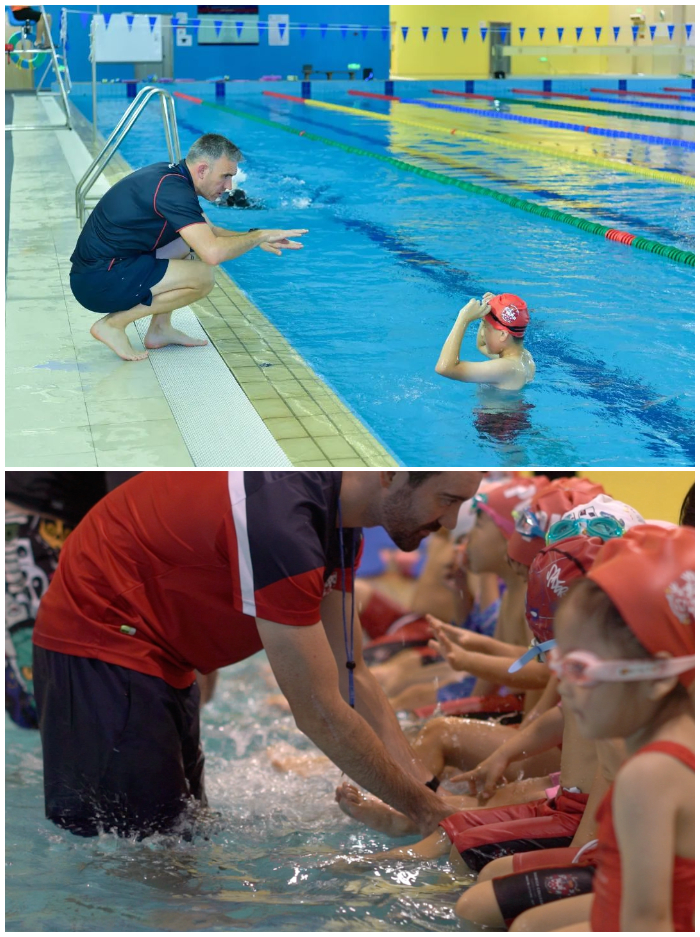 I'm extremely proud to lead the world-class swimming programme here at Dulwich College Shanghai Puxi. I look forward to seeing you in the pool soon".