The Dulwich Difference For Teachers

Dulwich College Shanghai Puxi is considered to be an exemplary employer of international teachers in China and in this social media series,
"The Dulwich Difference For Teachers",
our teachers share how Dulwich College Puxi has been a supportive and progressive employer for them.
Recruiting Now For August 2021!
We are a growing school so if you are an outstanding expat teacher in China and looking for your next move to Shanghai, please get in touch with us.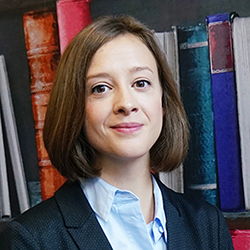 Hello! My name is Kathryn Rowland and I am the Assistant Head of Primary for Key Stage 2 at Dulwich College Shanghai Puxi.

Q. Could you describe the culture (both work and social) at Dulwich College Shanghai Puxi?
Working at Dulwich College Shanghai Puxi, you are empowered to aim high and challenge your own capabilities, within a supportive working environment. Dulwich College Puxi values you as an individual and demonstrates a genuine interest in nurturing and developing your ambitions, through invaluable professional development opportunities led by inspiring leaders and researchers in the educational field. The community spirit and warmth can be seen and felt throughout the College corridors, as staff collaborate towards a common goal to provide a world class education and experience for our young learners. As one community, those you work with at Dulwich College Puxi really do become your family.
Q. What's your favourite aspect of working at Dulwich?
'Opportunity' is most certainly my favourite aspect of working at Dulwich, as I have witnessed first hand the variety of first class experiences, professional development and research opportunities, which have been presented to myself and those I work alongside, enabling me to develop and thrive in my career.
Q. Does the College community serve your wellbeing?
The simple answer would be Yes - most certainly.
Dulwich College Shanghai Puxi consistently considers the wellbeing of all members of staff by creating a supportive and inclusive community. This begins from the very moment you become a part of the Dulwich College Puxi family, where a supportive network is introduced and community events, a supportive College Leadership Team, and school counsellor solidify the College ethos in serving wellbeing.
Q. How does Dulwich College Shanghai Puxi serve your long term goals?
As with many job interviews, Dulwich College Puxi inquire into your long term goals, but unlike many schools, your goals are woven into your professional development, conversations and actions to ensure you continue to be challenged and developed in your practice. To me, this level of professional care and accountability for individual growth really makes the Dulwich difference.
Q. How have you grown professionally since joining Dulwich?
Since joining Dulwich, I have received a wealth of professional learning opportunities and experiences, which has aimed to challenge and support my own professional interests, alongside the College goals. As an assistant head teacher and class teacher, I have developed my classroom practice through exploring the latest research such as, formative assessment, oracy and the inquiry based learning. Professionally, I feel I have grown in confidence and have been upskilled as a leader, gaining a new and enlightened perspective of education and leadership.

Interested in knowing more about working at Dulwich?
Dulwich College Shanghai Puxi is located 40 minutes from downtown Shanghai. Teachers at Dulwich are well remunerated with a generous salary which is increased annually. We offer very attractive benefits including quality apartment accommodation, transport to and from campus, full medical insurance, flights home, meal and laundry allowances, and in selected positions, tuition fees paid for up to two children. Dulwich aims to attract high performing individuals and we support staff with generous professional learning opportunities to encourage growth. Dulwich College Puxi is part of a family of schools with 13 colleges and schools across China, Singapore, Myanmar and the UK and provides exciting prospects for career development and promotion.
Our College is committed to safeguarding and promoting the welfare of all the students in our care and expects all applicants to share this commitment. We follow safe recruitment practice, and appointments are subject to an interview, satisfactory references as well as identity and criminal record checks. All successful applicants must also be able to meet visa requirements to work in China, including at least 2 years' teaching experience.